Presented by ProMusicDB & sponsored by AFM Local 47:

Learn how to turn your music experience into a passive income stream by creating your own online course
Local 47 is pleased to sponsor How to Create Your Own Online Course in Music, a workshop presented by ProMusicdb.
Saturday, June 4
10 a.m. – noon
@ AFM Local 47 Serena Kay & Earl Williams Auditorium
Free for AFM members; $20 suggested donation for guests
Space is limited; RSVP today to guarantee your seat!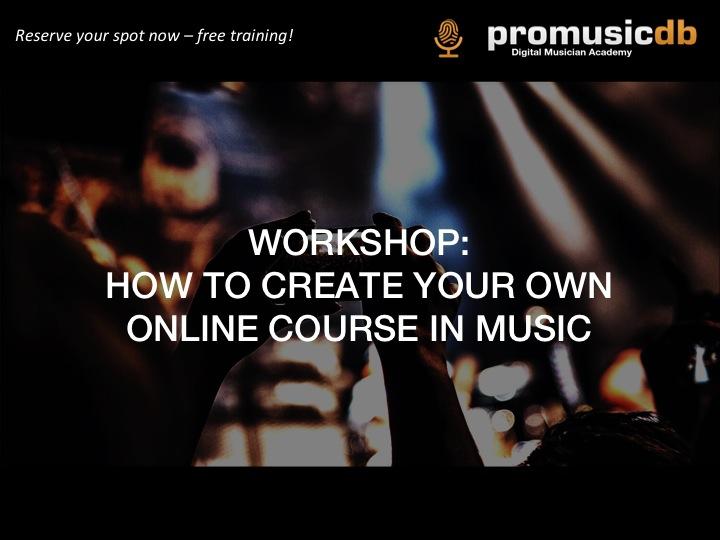 In the digital world we live, it has become more and more the norm to learn online. In this workshop, creating an online course will be demystified and participants will go through the exercise of creating an online music-focused course, from picking a topic to teach to hosting it online.
We'll cover:
Why creating an online course is a huge opportunity for creating passive income at this point in time.
How to pick the right topic for a course based on your expertise and experience.
The course content types.
How to make, gather, and organize your course content.
How to determine the features you need a platform to have to host your course.
What to do to make your course more attractive to online students.
How to brand your course(s).
How to market and manage your course.
How to set up your course to function automatically.
How to get students for your course.
We'll also present firsthand case studies by musicians who have successfully launched their own online music courses.
Laptops recommended. Coffee and bagels will be served.
This workshop is free to American Federation of Musicians Members.
$20 suggested donation for non-members, payable via Paypal @
pasadenaartscouncil.org/emerge/promusicdb.
RSVP via Eventbrite by June 3. 
ProMusicDB Digital Musician Academy
As a vehicle to further empower the professional music community in the digital world, Christy Crowl established the ProMusicDB Digital Musician Academy earlier in 2016, as a compliment to ProMusicDB: The Professional Music Credits Database. The DMA is focused on teaching musicians how to create new passive income streams for themselves in the area of e-learning, by fostering and encouraging musicians towards the creation of their own online courses based on their individual musical experience and expertise.
Why?
The e-learning industry has grown by almost 40% each year over the past three years, and is predicted to reach well over $107 Billion Dollars in 2016. Online courses are becoming the norm in education and creating them are a natural fit for a musician or creative who is looking to teach to a larger market online and create passive income for themselves.