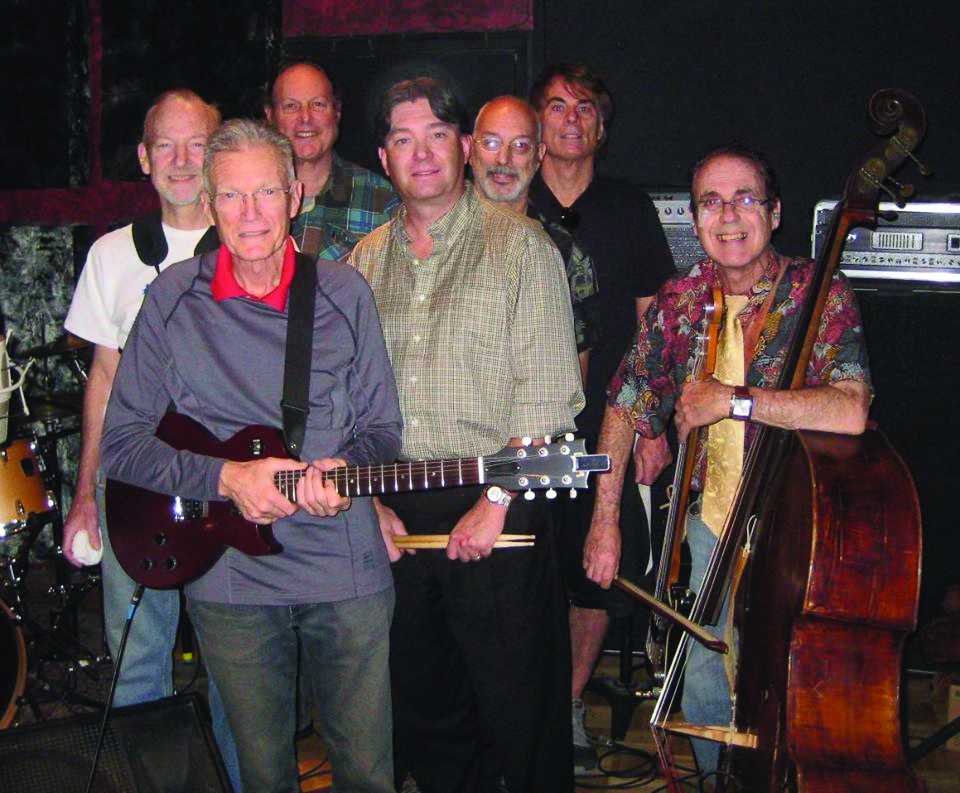 Going over 30 years strong, nonprofit music outreach group Saturday Night Bath continues to deliver music therapy to those who need it most, from at-risk youth to senior citizens and the greater community.
Each year, Saturday Night Bath visits an average of 20 continuation high schools and correctional facilities. To date they have presented nearly 600 interactive concerts at local juvenile halls, elementary, middle and continuation high schools, and probation camps throughout the state, connecting directly with 37,000 young people. Through this outreach SNB is able to provide vital hands-on music therapy, and in recent years have given preference to pregnant teen sites.
Formed in 1984 by Howie Rich, the seven-musician ensemble based out of Los Angeles gives two-dozen interactive concerts and clinics a year, with a focus on continuation schools and youth detention facilities. Led by Rich, who also performs bass, SNB comprises concert and recording musicians Michael Rosen on harmonica, Chris Ross on percussion, Markus Brox on drums, Dave Holland on baritone and tenor sax, John Murphy on guitars, and Harlan Spector on keyboards. When extra funds are available, additional on-call musicians playing bass, guitar, percussion and woodwinds are added to the ensemble.
The group's educational, interactive approach reflects a profound concern for young people facing massive challenges in their lives. Their first objective is to introduce and promote a better understanding of the living history and evolution of popular jazz and blues art forms. The second, even more important, objective is to motivate these at-risk students by participating in an up-close concert experience, to pursue further study of traditional or modern music, to play instruments, and to sing and write lyrics. SNB aims to intrigue these students with accessible musical styles and songs, raise interest in other scholastic and art endeavors, and expand their musical knowledge by talking directly to practicing musicians. "We provide an inspiration to pursue music and a reason not to drop out of school," Rich says.
The All Points North Foundation in Boston recently awarded SNB a significant grant that will be used to fund visits starting in January 2018 to three Los Angeles middle schools for one month "mini-residencies," culminating with concerts at the end of each month. Early next year Saturday Night Bath will also be returning to the Los Angeles Juvenile Hall Probation Camps for a third year.
When asked about Saturday Night Bath's unique name, Rich explains that it refers to a time 100 years ago when many country folks had no indoor plumbing, and even many city dwellers lacked hot water heaters. So families had to boil water to take baths on Saturday night in order to be fresh for church on Sunday morning. Similarly, the group provides a fresh insight into music for today's youth. "We play for kids who have never seen a live band up-close and personal once a week, or ever," Rich said.
The Los Angeles County Arts Commission became the organization's first sponsor in 1986, providing SNB with three consecutive two-year Organizational Program Grants. Through the years funding has come from the City of Los Angeles Department of Cultural Affairs, California Arts Council, and from Impact Grants. AFM Local 47 and the Recording Industries' Music Performance Fund in New York continue to provide annual co-sponsor allocations that cover a significant percentage of the musicians' concert wages. Current sponsors include City of West Hollywood Cultural Affairs, Edison International, the Music Fund of Los Angeles, the Hagen Family Foundation, the Sidney Stern Memorial Trust, and the Swanton Foundation. Los Angeles County Supervisors Hilda Solis, Don Knabe, and Mike Antonovich are currently supporting performances in their districts, as Supervisors Mark Ridley-Thomas and Zev Zaroslavsky have done in the past.
To learn more, please visit saturdaynightbath.org.
*Note: This article has been updated from a piece originally published Sept. 6, 2016.