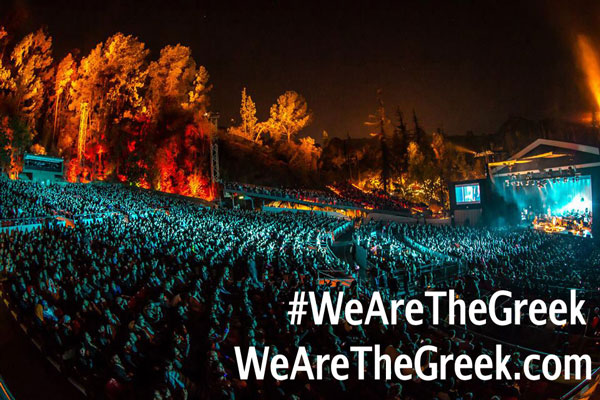 #WeAreTheGreek campaign seeks to keep the Greek a family-operated – and union-friendly – venue
Nederlander Concerts, the family-owned company that has run the Greek Theatre for over 30 years with a collective bargaining agreement with Local 47, is in danger of losing its contract to Live Nation, putting union music at the historic venue at risk.
Last month, Los Angeles Department of Recreation and Parks commissioners recommended in favor of a takeover by national conglomerate Live Nation, which has no obligation to negotiate a CBA.
"Live Nation's history with regard to dealing with unions — all unions — is problematic, at best," says Arthur B. Rubinstein, music director of Symphony In The Glen. "This could seriously affect the continuation of Symphony In The Glen's annual EEK! at The Greek Halloween concert, along with many other events."
Rubinstein also notes that the Live Nation "Improvement Plan" for the Greek includes taking the orchestra/chorus dressing room and turning it into a crew catering area. "Thus, you might find yourself having to serenade the crew as you prepare for a performance," he says.
The commission's recommendation now heads to a City Council committee, and the final contract will have to be approved by the parks commission, the council and Mayor Eric Garcetti. The new agreement to run the Greek will span 10 years, with chances to twice extend the agreement for an additional five years each.
"If this is as great a concern to you as it is to us, I strongly urge to make your thoughts known and join the community in supporting Nederlander," says Rubinstein. "Your voices will be heard… if you raise them!"
Stay tuned to important updates and make your voice heard at wearethegreek.com.