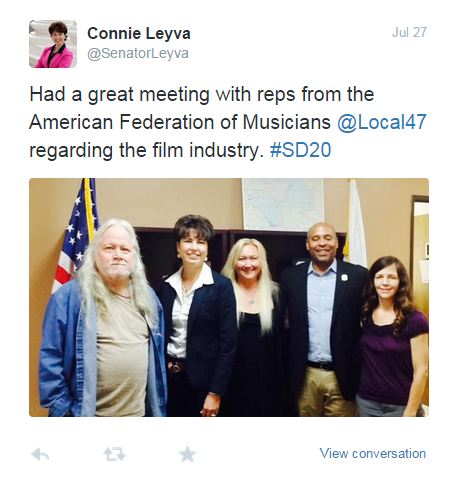 On Monday morning, musicians in Los Angeles visited the office of state Senator Connie Leyva (D-Chino) in support of AB 1199, a bill aimed at creating more film & TV music jobs in California.
AB 1199 is now in the Senate Governance & Finance Committee and will be picked up again in January. Musicians are utilizing this time to gear up for visits to local state senate offices to voice their support of this important bill.
Several more visits in other districts are in the works up and down the state. Many Los Angeles Local 47 members have already heard from Local 47 Organizer Merideth Cleary – and if you haven't yet, you will soon!

Show your support – sign the petition!
To learn more about this important work, visit our AB 1199 blog. If you'd like to get involved, sign up for Local 47 Action Alerts or call Merideth at 323.993.3143 to stay posted to future developments on this and other news that affects California musicians.