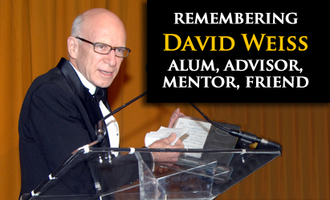 Presented by the Young Musicians Foundation
Tuesday, June 24, 2014, 7-9 pm
Tickets:  Free (RSVP requested).
Seating:  General admission.
Theater address:  Aratani/Japan America Theater, 244 S San Pedro St, Los Angeles, CA 90012.
Parking:  Closest paid lots are on 2nd Street between San Pedro and Central.
David Weiss was a beloved mentor, friend, and advisor whose passion for music and life touched our entire community. The Weiss and Walker families, along with Young Musicians Foundation, will present a tribute concert in celebration of David's life on Tuesday, June 24, at the Aratani/Japan America Theater at 7pm. Concert and reception are free; RSVP requested at davidtribute.eventbrite.com.
YMF is deeply grateful to David's family and friends for their guidance in selecting a few of his favorite pieces for the evening's program, including works by Mendelssohn, Mozart, Bach, and Dvorak.  We are also honored to present a new work by composer Michael Levine dedicated to David. A multimedia production will accompany the music. Ivan Shulman and Roger Kalia, YMF Debut Orchestra Music Director & Conductor, will conduct. Following the performances, attendees are invited to a reception outside in the plaza at approximately 8:15pm.