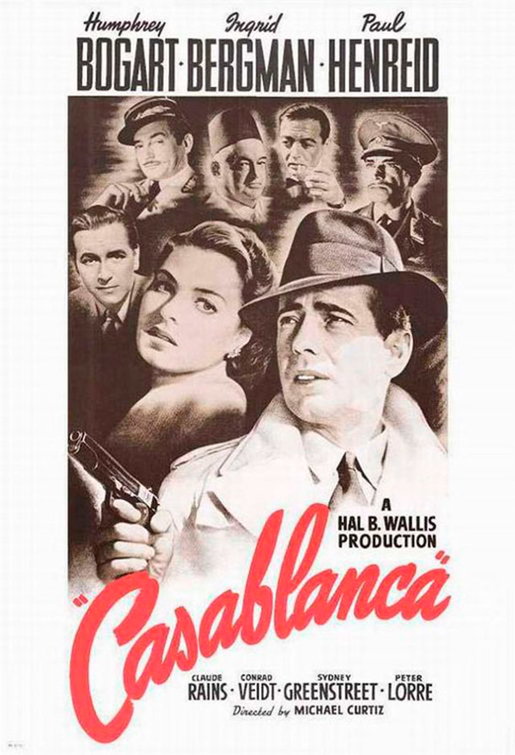 by Robert E. Wallace, Ph.D.
On a day in late May of 1942, Michael Curtiz began filming Casablanca on the Warner Brothers lot.  That day, two pianists were on set to record the flashback scene set in Montmartre1, and one of many recordings of Herman Hupfield's "As Time Goes By."   Later in production, three pianists were present to record the song in the scene in Rick's Café with Sam singing for Ilsa1.  It remains an open question of just whose piano is heard playing in the film.  A popularly held notion is that Dooley Wilson's friend, Elliot Carpenter, was responsible for these pieces in the released film.  The following detailed review shows that a studio musician, Jean Plummer, should get the credit.
Who were the players?  William Ellfeldt, possibly the AFM representative, was a pianist and arranger for screen and stage (New York and Los Angeles) and who often made piano reductions for stage productions and for film studios2-7.  Elliot Carpenter, who auditioned for the role of Sam, had an established career in the United States and in London and Paris between world wars1,8,9.  His band, the Red Devils performed in London and Paris from 1920 until 1923 when he returned to New York9.  At the same time, Dooley Wilson was in London and Paris drumming and singing with the Red Devils, presumably the second version of the band with Elliot Carpenter9-11.  Jean Vincent Plummer was a Los Angeles based studio pianist for film, stage, live performance, and live radio.  It will appear that he played all live piano in the film.  Once finished with work on this film, he was drafted to the Army becoming the principal pianist for the Armed Forces Radio Network Orchestra12.  Jean Plummer was also staff pianist for CBS Radio and the Screen Guild Theater, ABC's The Railroad Hour, and had a long career working with Paul Whiteman, Meredith Wilson, Carmen Dragon, and many others12.
Film production notes, Daily Production and Progress Reports, memoranda, and the editor's script have been compared with pay records supplied during production to the American Federation of Musicians, Local 47, by Warner Brothers Studios1,13.  Furthermore, a forensic musicologist compared playing examples with the music in the released film14.
As an example, Howard Rye mentioned that Maine born, popular Crescent City pianist, Earl Roach, claimed to have played "As Time Goes By" in the film9,15.  As there exists no mention of him in either the production records of the film or in the AFM pay records, his claim may be dismissed.
At a 30th anniversary screening of the film at the Doheny Plaza (Writers' Guild) Theater, a captioned photograph of Paul Henreid with Elliot Carpenter noted that "…Carpenter played "As Time Goes By" for actor Dooley Wilson" 16.  Soon thereafter, Carpenter wrote to his old friend Eubie Blake that he had finally been recognized for his work17,18.  Nothing else appears in press or archives on this subject, although this caption seems to have established the common notion.
The thought that Elliot Carpenter played this and all other material for the film can be found in several popular books19-22.   Aljean Harmetz' popular history23,24 of the making of the film references only the Daily Production and Progress Report from 25-May-19421 where Ellfeldt and Carpenter are identified as musicians on set and has Carpenter recording, although neither were paid13.  It is easy to surmise from one document that he played this song for the many times it or themes adapted by Max Steiner appear in the film.  By both a detailed history and musicology, this does not prove to be the case.
Production for this film began the 9th of April, 1942 with screen test and sound tests continuing through the 14th of May.  Both Plummer and Ellfeldt started on the 10th and were paid through July to the end of production the 3rd of August and through to the end of post-production in late August1,13.  Carpenter shows on set for just four days, paid only to record on the 9th of June and to sideline on the 11th of July.  In contrast, Plummer was paid for all of the fourteen days he was called to work.
In the weeks before the first slate on May 25th, Jean Plummer was paid to sideline on each of the four days that Dooley Wilson was made available from MGM.  Plummer was called to sideline on the 28th for scenes in the Gambling Room of Rick's while Wilson is shown as held.  Again, on the 29th, Plummer is called to sideline while the Daily Report showed Wilson recording all day at the music department.  Two production days later, synchronized playback used the pre-recorded disk, D5426, containing Dooley Wilson, with piano accompaniment, singing of "Knock On Wood" and "Dat's What Noah Done."   This disk, as were others later, was composited to film stock and used several times throughout the production.  Given the assignments, timeline, and pay records, it was Plummer who provided the accompaniment.  In mid-June, Plummer worked about two hours after the set closed.  The next day, June 13th, disk D5447 first appears in synchronized playback and contained "It Had To Be You" and "Shine."  Late June, the 24th, has Plummer on-set for live-action standard recording of "Parlez Moi D'Amour" and "If I Could Be With You" with a five piece orchestra and six singers.  June 29th finds Plummer paid for a double recording session while the cast shot scenes in the Café that lead to the flashback to Montmartre.  The next day, these scenes were re-shot using forty minutes of unspecified synchronized playback.
On several dates in June and early July, Ellfeldt managed the standard and playback recording of  "Watch on the Rhine" and "La Marseillaise," each time adding more orchestration and singers.
After Max Steiner was assigned to write the film's score on July 11th and then, for several days through August 24th, Ellfeldt managed the recording of the film score.  Plummer was recalled the last day on the 25th of August for a double recording session, also for the score.
Notably, both Carpenter and Ellfeldt were on set for recording but not paid, for scene 117 (May 25th slates A1-A5), the flashback in Montmartre, and scene 105 (June 15th slates A217-219), the lead-in at Rick's Café to the flashback.  Scene #94 when Sam sings for Ilsa in Rick's Café was shot on two days with different personnel recording the same material.  The film editor's script25 shows that, on June 9th, slate 164, with Plummer, covered the full scene and that slates 165 -167, with Carpenter, also covered the full scene.  It appears from the editor's time-lines that slates 167, and 173 to 178, with Ellfeldt on June 10th, were used only for dialogue.  The editor's script shows all these slates were intercut and gives no detail of which performance made into the released film.  For this, a musicologist was consulted.
To determine who played piano in that scene, contemporary (i.e., 1940's) examples of both pianists and soundtrack audio clips were abstracted from a studio release of the film on DVD26.  This material was provided to a forensic musicologist.  Examples from the film are for scene 94 in Rick's Café at 32minutes, 37seconds to 33m28s, scene 105 of the flashback interlude at 38m15s, and scene 117 in Montmartre at 42m15s through 43m00s.  Examples of Jean Plummer were provided from Armed Force Radio Service Orchestra secondary studio acetate recordings held by his heirs12 of selected standards of the era including, "This Can't Be Love," "Blues In The Night," and a Plummer composition for the AFRS orchestra, "Accent On Rhythm."  Few examples of Elliot Carpenter exist.  However, a discography provided by Rye9 noted the DECCA #40006a/b studio recording of Dooley Wilson accompanied on piano by Elliot Carpenter performing both "As Time Goes By" and "Knock On Wood."   Public release of the 78rpm disc was in late 1943 just after DECCA was the first company to settle with AFM over studio musicians' pay.  A digitized copy of a disc having verified authenticity, and mechanical rights for copy, was obtained for musicological review.   Since there was no direct comparison available of each playing "As Time Goes By," a request to audition sound from corresponding slates 164-167, A1, 217, and 219 was pursued with Warner Brothers.  The studio responded that these materials were not kept long after the film was released.
The musicologist's conclusion, based on the materials provided, is that Carpenter is not the pianist on the soundtrack14.   His forensic review compared figurative style in improvised parts of the material.  It is expected that a performer would have the same or similar style between the two performances, one for the film and the other, later in the studio.  Also expected is that each performer has signature decoration and improvisational approach that constitute the distinctive style of each pianist.  On this basis, the musicologist's review stated that the DECCA recording is stylistically inconsistent with the soundtrack and concluded, "the pianist on the soundtrack does very different things than Carpenter does accompanying Wilson in the studio."
From the foregoing, it can be concluded that all piano performance can be attributed to Jean Plummer.   It has been shown that he had ample paid time to pre/live/post-record all of the performances of "As Time Goes By."  Also, it can be concluded that while Elliot Carpenter may have been recorded on-set, his work does not show in the released film.   Furthermore, the interpretation of the Daily Progress Report of 25-May-1942 found in Harmetz' books is leading, at best inconclusive, and falls under detailed scrutiny.  Finally, what the audience hears in the released film is the piano of Jean Plummer.
Acknowledgments:
Thanks to so many people who have been helpful in this endeavor.
Howard Rye, Music Historian, London, UK
Robert Fink, Professor, UCLA Musicology
Warren Sherk, Special Collections, Margaret Herrick Library, AMPAS, Los Angeles, CA
Patrick Russ, Orchestrator and Arranger, Los Angeles, CA
Len Horowitz, History of Recorded Sound, Culver City, CA
USC-Warner Archives: Jonathon Auxier, Sandra Aquilar, Sandra Garcia-Myers, Brett Service
Warner Brothers Studio: Legal, Lisa Margolis and Shannon Fifer; History, George Feltenstein
Damon Talbot, Maryland Historical Society, Eubie Blake Papers
Danielle Cordovez and Jonathan Hiam, Rodgers and Hammerstein Archives, Elliot Carpenter Papers, New York Public Library
Gordon Daines and James D'Arc, Max Steiner Collection, Brigham Young University
Karen Fishman, Library of Congress, Recorded Music
Brad Kay, Superbatone Record Company, Venice, CA
Walter Smith, RecordSmith.com, Richmond, VA
Endnotes:
Daily Production Records 09-April-1942 through 24-August-1942. Casablanca file, 1486_F005911_001. Los Angeles: University of Southern California, School of Cinematic Arts, Warner Brothers Archives, accessed November 29, 2011.
Zhito, Lee, "'Three Wishes,' Musical Irish Fantasy Shows Stem Promise in Coast Preem," The Billboard Magazine, July 14,1951, 3,19.
The Internet Broadway Database, William Ellfeldt, https://www.ibdb.com/broadway-cast-staff/william-ellfeldt-103578/, accessed October 16, 2016
The Internet Movie database, William Ellfeldt, http://www.imdb.com/name/nm2545476/, accessed October 16, 2016
In Hollywood, Gus Arnheim Orchestra 1928-1933, Renovation Records, USA, 2006, UPC: 725543700629, compact disk
Sherk, Warren, electronic private communication to author, Los Angeles, Academy of Motion Picture Arts and Sciences, Margaret Herrick Library, Special Collections, November 12, 2015.
AllMusic, William Ellfeldt, http://www.allmusic.com/artist/william-ellfeldt-mn0001221484, accessed October 16, 2016.
Badrock, Arthur, 'Hatch & Carpenter in England,' VJM's Vintage Jazz and Blues Mart No. 121 Spring, 2001 pp.4-8, http://vjm.biz/articles6.htm, accessed October 16, 2016.
Rye, Howard, "Elliot Carpenter," Names & Numbers 31, (2004): 3-7.
Jasinski, Laurie, ed. The Handbook of Texas Music, (College Station: Texas A&M University Press, 2012), 680.
Finkelman, Paul, and Wintz, Cary eds. Encyclopedia of the Harlem Renaissance, (New York: Routledge, 2004), 245, 247.
Plummer family. Jean Plummer, family archive. Los Angeles, CA, private communication to author, July 2006.
American Federation of Musicians, Local 47, Los Angeles, CA, archivist private communication to author, August 2011.
Fink, Robert, electronic private communication to author, Los Angeles, CA, University of California at Los Angeles, Department of Musicology, December 01, 2015.
De Rosa, Carole, "Pianist Quiets the Crowds with Songs and Memories," Asbury Park Evening Press, July 14, 1972, 9.
Photograph of Paul Henreid and Elliot Carpenter with caption, uncredited, Los Angeles Times, part IV, 10-January-1972), IV:18.
Carpenter, Elliot, Letter to Eubie Blake of 12-January-1972, Eubie Blake Collection. Baltimore MD, Maryland Historical Society, handwritten letter, accessed October 21, 2014.
Letter to Eubie Blake, Elliot Carpenter Papers, 1922-1978, Index SC599, p10. New York. New York Public Library, Helen Armstead-Johnson Theater Collection, accessed October 2014.
Francisco, Charles, You Must Remember This: The Filming of "Casablanca," (Upper Saddle River, New Jersey: Prentice-Hall, 1980), 139.
Lebo, Harlan, Casablanca: Behind The Scenes, (New York: Touchstone, 1992), 181.
Miller, Frank, Casablanca: As Time Goes By: 50th Anniversary Commemorative, (Atlanta: Turner Publishing, 1992), 137.
Duchovnay, Gerald, Humphrey Bogart: A Bio-bibliography, (Santa Barbara, CA: Greenwood Press, 1999), 178.
Harmetz, Aljean, Round Up the Usual Suspects, (New York: Hyperion, 1992), 128, 201.
Harmetz, Aljean, The Making of Casablanca, (New York: Hyperion, 1992), 128, 201.
Editor's Final Script, Casablanca file, 1881_F000773_DNA. Los Angeles: University of Southern California, School of Cinematic Arts, Warner Brothers Archives, accessed October 15, 2016.
Casablanca, Burbank, CA: Warner Brothers, 2003, DVD 65681.
About the author
Robert E. Wallace, Ph.D. is a medical physicist by profession who has always had an interest film and other history as puzzles. He shares:
I came on this topic while qualifying Jean Plummer's wife, Jeannie (who was the first Miss having Six Hits), for entry at the Motion Picture and Television Foundation "Country Home."  In order for my mother-in-law to retire there, I needed to compile a historical record of significant earning in film and television by her late husband Jean Vincent Plummer who I had never met.  To do this, I inspected the record of his film and television pay that was provided by contract archivists at AFM Locals 7, 47, and 802.  Much later, I realized that in them was information to investigate the topic of this paper.  In my wife's family, it had always been held that Jean had played the piano heard in the released film.  This is written in his resume.  In fact, when the LA Times published the picture of Henreid and Carpenter with the captioned claim in 1972, Jean sought out the other musicians from the film.  No-one knows whether the printed caption was a correct paraphrase of what Elliot Carpenter had said when asked why he was at the screening.  Jean just wanted his side heard.  So, he tried to contact Wm. Ellfeldt who was both friend and the AFM contractor.  In 1942, when he played in the film, Jean was 29 years old while the other musicians were older and well into their careers.  In 1972 and the 1980's, he found them all to be deceased or otherwise lost from the AFM Local 47 rolls.  Jean passed in 1989 before others and Aljean Harmetz first published her book in 1992 perpetuating the 1972 claim.  As I pursued this, there seemed a general consensus that the question of claims remained open and that this presented an opportunity to make a footnote to this film's history.  Finally, I have made every attempt to maintain impartiality and hope the reader agrees.