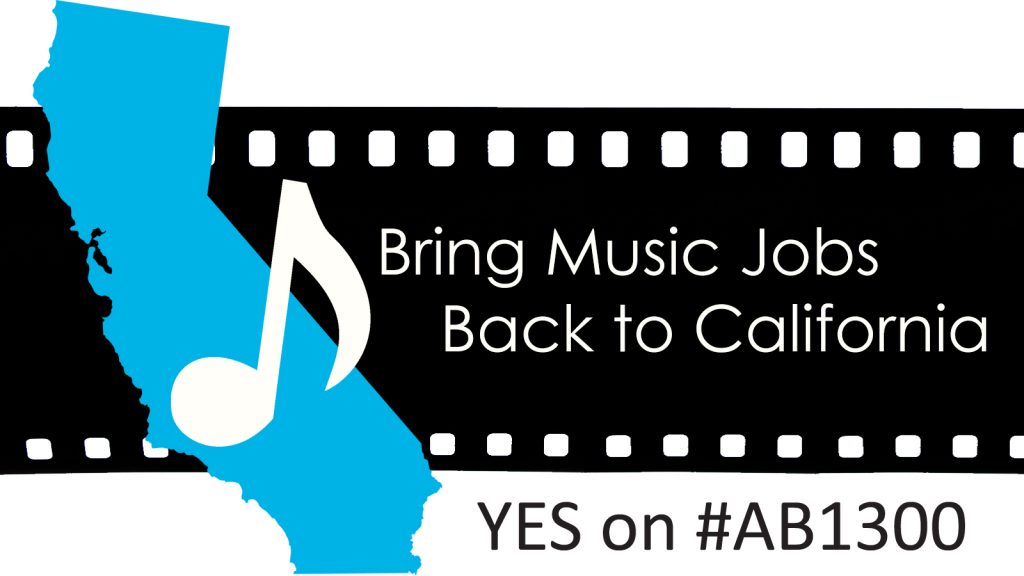 What is AB 1300?
Introduced in April 2017 by Assembly Majority Leader Ian Calderon, AB 1300 – the Music Scoring Tax Credit – would implement a long-sought system for supporting film and television music scoring jobs in California by bringing overseas scoring home. The bill is aimed at bringing the success of our California film and television tax system to musicians and the scores that are an integral part of every film and TV project.
How would it work?
Foreign productions: The bill would provide a 30% credit for motion pictures shot outside of North America employing 35 or more musicians and completing at least 75% of the scoring in California.
Low-budget provision: Projects $5 million or under — regardless of filming location — employing nine or more musicians and completing at least 75% of the scoring in California would also qualify.
Where does the money come from?
Funding for the music-scoring tax credit would NOT come from new tax dollars. Previously dedicated credits can be reallocated.
Why foreign productions?
The growing trend of Hollywood movies filming overseas is ongoing, and will only intensify as China enters the production market. By targeting foreign productions, we can lure that work back home and create more scoring jobs here in California. This also ensures that California tax dollars invest in jobs that would otherwise be lost to us.
Why low-budget projects?
Small-budget projects are the entryway for diversity and relationship-building. Supporting the relationship between filmmakers, composers and musicians from the beginning will invest in a stronger, deeper and more diverse industry here at home.
Why musicians and music scoring?
Thousands of musicians in California work in the entertainment industry, but struggle to make a decent living as scoring jobs are lured by tax credits to London and other scoring centers.
These musicians create unparalleled educational and cultural equity for our state. By teaching on all levels, from "El Sistema"-style nonprofits to top universities and conservatories, and by performing in concert halls, theaters and clubs—activities that rarely provide for a living—musicians give back to our community in countless ways.
Musicians' wages and residuals from film and television represent a tremendous multiplier of 100% taxable income in the state of California.
What are film & TV music tax credits?
Learn more about California's incentive program, and what it means for musicians, here.
Why now?
Musicians have suffered historic losses of music scoring jobs to foreign tax-credit regimes.
California must act now to save the density of infrastructure and labor pool that we need to both be the tremendous artistic and economic resource that we have and to maintain our status as a global magnet for the best and brightest.
As China enters the production market in tandem with Hollywood, our Golden State has a golden opportunity to become the scoring center for projects filmed across the Pacific.