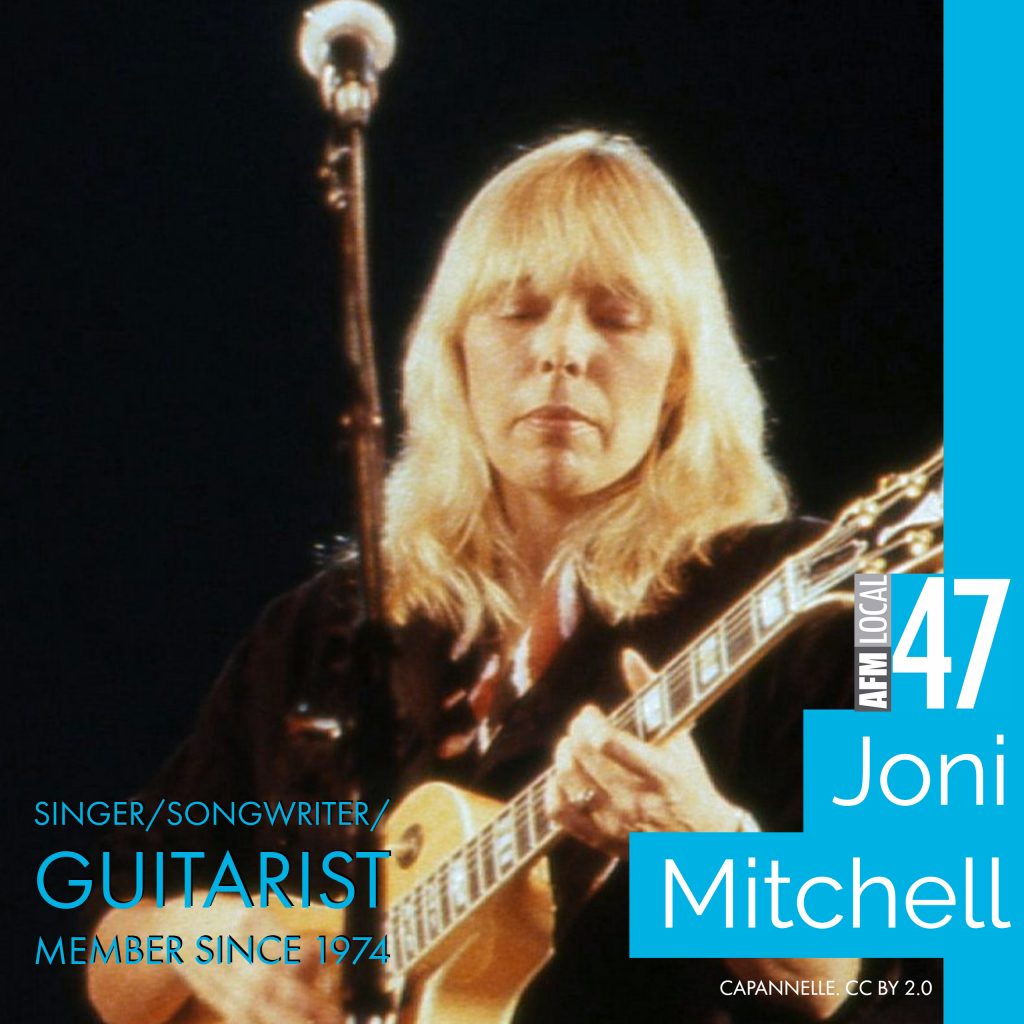 Legendary singer/songwriter Joni Mitchell is widely considered folk royalty for her highly prolific, and widely acclaimed, decades-spanning career.
The Canadian-born artist started off playing small clubs throughout Canada and the United States. In the early 1960s while playing one night at a club in Coconut Grove, Florida, David Crosby walked in and was immediately struck by her ability and her appeal as an artist. He took her back to Los Angeles, where he set about introducing her and her music to his friends. In 1968 she recorded her first self-titled album, produced by Crosby, and many highly successful albums were quick to follow. In 1969 she won her first Grammy Award for best folk performance for her sophomore album, Clouds. Her third album, Ladies of the Canyon, was a mainstream success for the folk singer, becoming her first gold album, which included the hits "The Circle Game" and "Big Yellow Taxi."
It was during this time she was already starting to experiment with pop and rock genres. Throughout her career she has garnered several Grammys in various categories, including traditional pop, pop music and lifetime achievement. Her album Court and Spark (1974) signaled her foray into jazz and jazz fusion and was lauded by critics; it ended up becoming her most commercially successful project to date and was nominated for four Grammy Awards, of which Mitchell won for best instrumental arrangement accompanying vocalists. Other notable successful recordings include Blue (1971), The Hissing of Summer Lawns (1975), and the highly experimental Hejira (1976).
In 1982 Mitchell married bassist and AFM Local 47 member Larry Klein, who worked on her album Wild Things Run Fast (1994). Klein soon became an established music producer and worked on a number of Mitchell's albums throughout the late '80s and early '90s. While the couple worked on Turbulent Indigo, they eventually divorced in 1994. The following year Turbulent Indigo won a Grammy for best pop album.

In 1997 Mitchell was inducted into the Rock and Rock Hall of Fame. In 2007, she earned a spot in the Canadian Songwriters Hall of Fame. That same year she released Shine, her first album of new songs in almost a decade. Politically charged and environmentally conscious, the album was a Billboard success and was Mitchell's nineteenth and final studio album
A Life Member of the American Federation of Musicians Local 47, she joined the union in 1974. In November 2018, in celebration of her 75th birthday, two concerts presented by the Music Center took place at the Dorothy Chandler Pavilion where musicians from throughout the nation performing songs spanning her entire life and career. Special guest performers included Emmylou Harris (Washington, D.C. Local 161-710); Kris Kristofferson (Nashville Local 257); Rufus Wainwright and Marvin Sewell (New York Local 802), Diana Krall (New York Local 802/Toronto Local 149), and David Hidalgo and Greg Leisz (Los Angeles Local 47). Following the concert, Mitchell was honored with the Music Center's Excellence in the Performing Arts Award.