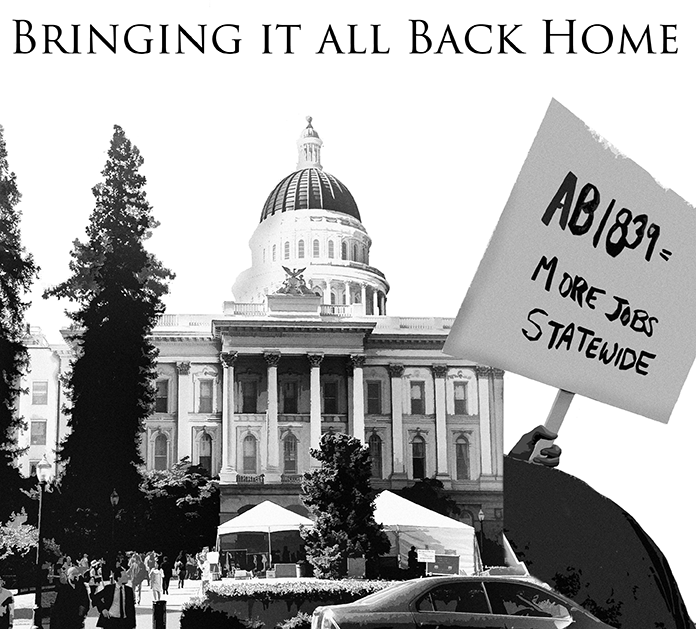 Entertainment workers take to Sacramento to bring jobs back to California
Words + photos by Linda A. Rapka
The behind-the-camera workers of th e film and television industry transformed the California State Capitol into a production studio on what was dubbed "Mobilization Day," demonstrating to lawmakers how the jobs that bring our favorite movies and television shows to life also vitalize the state's economy.
Hundreds of entertainment workers descended upon the steps of the Capitol Aug. 20 in an impressive show of support for AB 1839 (Bocanegra/Gatto), a bill that will strengthen California's film and TV tax incentive program.
Dubbed Mobilization Day, the two-hour rally drew more than 300 attendees from up and down the state, marking a strong display of the widespread support AB 1839 has attracted not just in Hollywood but throughout California. All areas of the entertainment industry were represented: actors, grips, makeup artists, musicians, film commissioners, teamsters, and crew, including the entire crew of ABC Family hit series "Pretty Little Liars". Also in attendance were media, union leaders, elected officials and their staff.
Director/actor Carl Weathers of "Rocky," actor Ron Perlman of "Sons of Anarchy, and actor/director Daniel Stern of "Home Alone" spoke in favor of the legislation, which will more than triple the size of the tax credit program to $330 million per year from the current $100 million annual allocation. The bill will also eliminate the current lottery system, replacing it with a system that awards credits based on a production's economic impact, including how many jobs it creates. Funding would begin in fiscal year 2015-2016 and run through fiscal year 2018-2019.
The interactive event enabled participants the rare opportunity to find out about the hard behind-the-scenes work that goes into film and TV production straight from the hard working Californians who make it happen. A "green screen" enabled attendees to become a part of the on-screen action. Make-up artists and hair stylists demonstrated how they transform actors into our favorite characters, and foley artists showed how they create the sound effects for movies and TV shows.
A live brass quintet made up of AFM Local 12 members from the Sacramento Philharmonic, co-sponsored by Local 47, the Musicians Foundation of Los Angeles and RMA International, performed throughout the event. Representing Local 47, I joined with Vice President John Acosta, Secretary/Treasurer Gary Lasley, and RMALA President Andy Malloy at the event.
The rally was the fourth such event held by supporters of AB 1839 since its introduction in February, which coincided with a Burbank rally that drew over 1,000 attendees. A March event attracted more than 600 at a prop house in Sunland, and a mid-June rally in San Francisco drew about 500.
At the time of this writing, the bill is expected to be approved by the Senate before arriving on the governor's desk.