Please join AFM Local 47 along with California Arts Advocates, NIVA CA, and California Association of Museums in urging the state to prioritize funding to the arts and creative industries by investing $1 billion in the arts, culture and creative industries and workforce.
This funding would benefit the recovery of the entire cultural sector: nonprofit cultural organizations, arts businesses, museums, and independent venues, as well as individual artists and creative workers.
We cannot wait any longer. With a California budget surplus and Federal funds on their way to help the state recover, we must act now and urge the Newsom administration and California legislature to recognize the disproportionate impact to California's creative industries due to the COVID pandemic, and to value the impact of the Arts, Culture and Creative Sector to power community engagement, social cohesion, wellness, healing, and rebuilding our state and local economies. In meetings with legislative offices, many have shared they are not hearing from the arts.
This is a once in a lifetime opportunity to end the historic under-capitalization of arts and culture but we cannot do it without your help. Take 5 minutes to lift your voice for the arts and send an automated letter to your elected representatives today!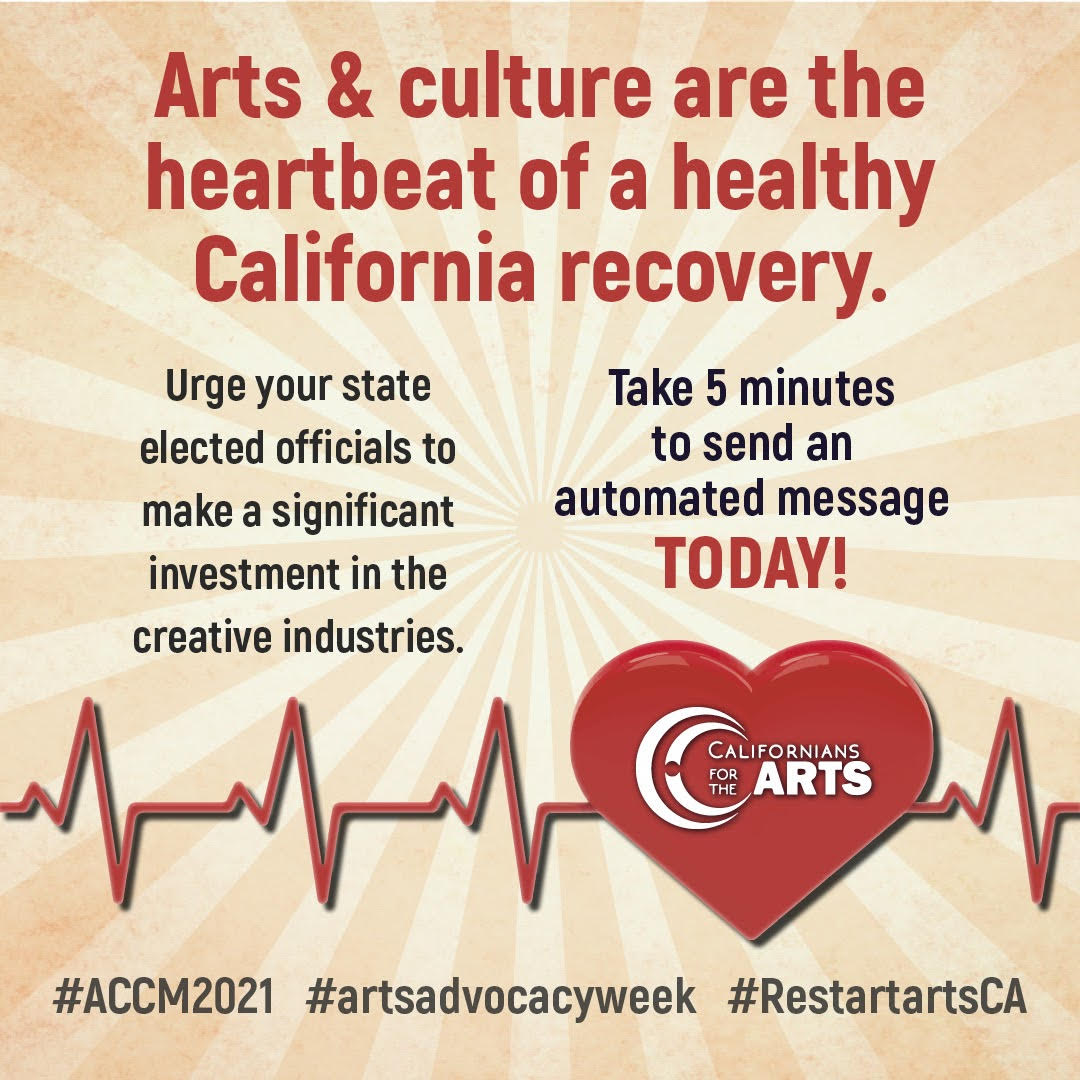 ---
STEP 1: SEND A LETTER TO YOUR SENATOR
Lift your voice for the arts and send an automated letter to your elected representatives and urge them to support recovery funding for our industry and a significant investment over the next four years. Click here to send your letter.
---
STEP 2: MEET WITH YOUR ELECTED OFFICIALS
Identify your Elected Officials here.
Request a meeting.
Follow up – If you do not hear back, follow up!
Use one of the Legislative Request documents below to guide your conversation and asks with your Representative or arts staffer:
---
STEP 3: SPREAD THE WORD
Encourage your friends, patrons and arts supporters to send a letter and support the movement for the arts and culture industries recovery!