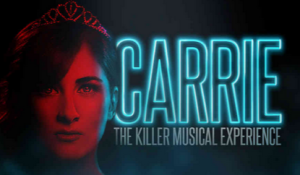 Just in time for the Halloween season, "Carrie: The Killer Musical Experience" landed at the Los Angeles Theatre in early October. Music Director Brian P. Kennedy worked tirelessly with Live Business Rep Michael Ankney to ensure this production signed onto a collective bargaining agreement with Local 47 to guarantee all the musicians received the fair wages, benefits and protections afforded by a union contract.
The musical adaptation of Stephen King's 1974 horror novel "Carrie" returned to Los Angeles after its run at the La Mirada Theatre this past spring, featuring the same live band with Brett Ryback (keyboard 2/associate conductor), Justin Smith (guitar 1), Ken Rosser (guitar 2), Jamey Tate (drums/percussion), and John Krovoza (cello). Met with rave reviews, the production is expected to expand upon its initial limited six-week run and extend into 2016.
"Carrie" features a score by Michael Gore and Dean Pitchford and a book by Lawrence D. Cohen. It tells the story of 17-year-old Carrie White, who is terrorized by her high school classmates and her fanatically religious mother. After becoming the victim of a prom-night prank, Carrie uses her newly discovered telekinetic powers to wreak havoc on those who have done her wrong.