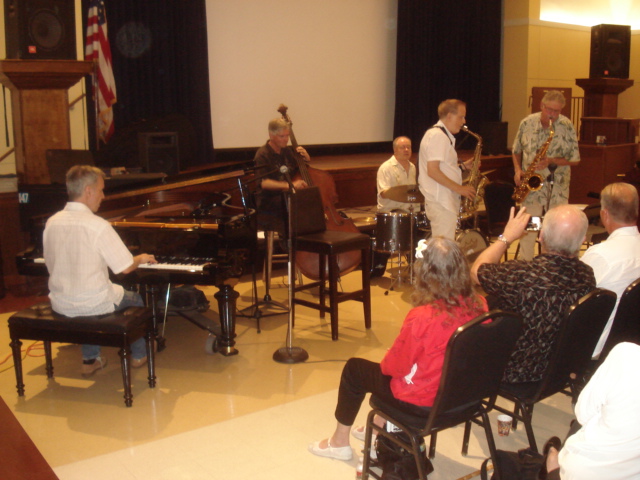 Life Member. Bass
(11/7/1917 – 7/15/2015)
By Glenn A. Mitchell, Life Member
Longtime jazz bassist, entrepreneur and educator Howard Rumsey passed away July 15, 2015, at 97 years. Rumsey brought jazz to the west coast in a big way after leaving the original Stan Kenton Orchestra. He helped Lighthouse owner John Levine by getting an OK to produce Sunday afternoon jazz at the Lighthouse. Several years later he also ran the famous Concerts by the Sea in Redondo Beach for a number of years until his retirement in 1985, bringing many famous world-class jazz artists to both venues.
On Saturday, Sept. 12, a Memorial Celebration of Life for Rumsey was held at Local 47 with close to 200 friends and fans attending the three-and-a-half-hour celebration. There were quite a number of superb musicians donating their time and talents to this wonderful afternoon. Rumsey's longtime friend Ken Poston led and emceed the impressive list of performers and speakers. He also told a large part of Rumsey's earlier life and much history following. He mentioned the movie "The Big Sleep" (1944) that Rumsey was in. Another was "Dementia" (1953), not as well known.
There were three groups who performed throughout this memorial celebration, with one or two important guests either added or performing between groups. The first was a sextet of high-caliber musicians: Life Members Bill Cunliffe (piano), Steve Huffsteter (trumpet), Fred Selden (sax/flute), members Richard Simon (bass) and Dave Tull (drums), and former member Barry Zweig (guitar). They played a couple of Shorty Rogers tunes. One was "Just a Few," a moving jazz number with some impressive solos from all. The second was "Po Po." Tunes like these make jazz shine beyond belief. Joining the sextet next was famous jazz singer Pinky Winters, who sang a marvelous version of "Tea for Two." The crowd loved her and this excellent sextet backing her. They closed with a vibrant version of Charlie Parker's "Straight, No Chaser."
Ken Poston announced that producer Ken Koenig was in the audience, who had made an important historical film about the Lighthouse with Howard Rumsey a few years back, and showed a few portions of the film to the audience. It was very well received. Another great friend of Rumsey was guitarist icon Kenny Burrell, who gave a talk on knowing Rumsey, and then played two solo pieces that he dedicated specially to him. The audience loved all of the remembrances. Rumsey made a special request for Burrell to be the man to open with his band for Concerts by the Sea (1971).
The second group performing, again led by Cunliffe, was made up of Life Members Kim Richmond (saxes), Pete Christlieb (tenor sax), Luther Hughes (bass), and member Dick Weller (drums). They opened with the lovely "Without a Song." The sound of this quintet was very well balanced. More gifted solos took place; these are all ace performers. The wonderful vocalist Janis Mann came on stage to sing "But Beautiful." Her voice resonates very smoothly. She delivered the song with all the emotion that a song of this magnitude should have with the best feeling that Mann always provides. Pianist and Local 47 member Peggy Duquesnel then sat in with the quintet on a number, playing very well as she always does.
Tommy Hawkins, an ardent jazz fan, retired former Lakers basketball player and radio personality for a number of years, talked about many memories of Rumsey, the Lighthouse, and also told stories of jazz notables he had hung out with over the years. He talked about the importance of younger people, and getting and keeping them interested in jazz.
The third group to perform was a sextet led by Cunliffe with members Carl Saunders (trumpet), Doug Webb (tenor sax), Scott Whitfield (trombone), Dave Stone (bass) and Paul Kreibich (drums). This ensemble played tightly and provided all the best solos. Some of the tunes they performed were an Ellington ballad, "I've Got it Bad and That Ain't Good," and a Latinized "Flim Flam." Saunders hit his usual high notes which are always unbelievable, and which the audience gave much applause for. Their closing number was the great "Caravan," a super rendition. Everyone's playing and solos were truly remarkable.
Ken Poston thanked the friends and fans of Rumsey and for being here this afternoon for his Memorial Celebration. He acknowledged Nancy Simonian, a close friend to Rumsey during his later years, and thanked her for taking care of him and also helping immensely in putting together his memorial celebration. It was a lovely and wonderful celebration of Howard Rumsey's life and the jazz he brought to our home state of California and beyond.