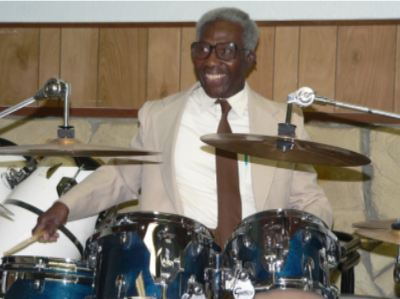 Life Member. Drum Set
(3/22/1928 – 9/11/2015)
by Patrick L. Green (Abeid)
Lorenzo C. Green, Sr. was born on March 22, 1928, to the union of Edwin Louis Green Sr. and Allie May Agers in Ardmore, Oklahoma. After the passing of his beloved mother, Allie, at a young age, Ludester Nolen became his stepmother. Lorenzo was one of four children – Edwin Green Jr., Betty Green, and Edna Mae Cheadle, who preceded him in death. Lorenzo C. Green Sr. passed away on Sept. 11, 2015, after a brief illness.
As a child, Lorenzo showed great interest in music, using his mother's pots and pans as instruments. He later went on to become a professional unionized drummer and percussionist. He graduated from Douglass High School in Ardmore, Oklahoma, with a football scholarship to Philander Smith College in Little Rock, Arkansas. He was, however, drafted into the military, and served his country proudly for four years, spending time in Japan, Guam and Korea.
After serving his country, he returned to Philander Smith College and earned a Bachelor's degree in Education, and began teaching. Lorenzo had several successful careers in his lifetime – working as a teacher for Head Start. He was a dental assistant for the VA Hospital (L.A.), as well as a probation officer for L.A. county jail. He went on to receive his Master's Degree in Child Development and worked as a children's social worker for the Department of Public Social Services, all of these while from 1954 to 2010 doing the one thing he truly loved: playing drums.
Lorenzo was by nature a very happy person – so full of joy and he always wore a big smile. He was very friendly and caring and loved being around his family and friends. Lorenzo had a passion for music, often playing ("gigging" as he would call it) all over California in jazz and rhythm/blues bands. He was a Life Member of the Musicians Union Local 47 for 60 years.
You Will Be Missed. R.I.P.