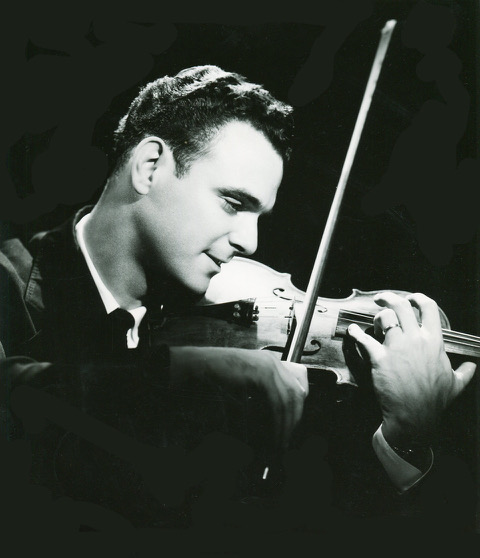 Life Member. Violin
(1925 – 2018)
Bobby Bruce (Robert Morris Berg) was born in Chicago, Illinois. His father owned a fruit market and his mother Rosie was a comedian and entertainer, performing at several theaters in the Chicago area. Bobby began violin lessons at age 6, and by the age of 9 he would do acrobatics, tap dance, sing and play violin on stage in a Vaudeville act called the Personality Kids on the Keith Orpheum circuit with his mother and older sister Eileen.
Bobby's remarkable violin skills earned him a scholarship to the Chicago Musical College where he obtained a classical music education under one of the finest teachers in the world, Leon Sammantini. He would take the streetcars to return home from lessons, sometimes stopping at jazz nightclubs to hear jazz musicians play. One day while standing in the rain with his violin and listening to jazz music, the jazz musicians invited him to come in and Bobby began jazz improvisation playing with these musicians. Bobby learned how to perform classical music with Sammantini and learned jazz improvisation at these Chicago jazz clubs.
When World War II began, Bobby, at age 17, joined the Marine Corps and took his fiddle with him throughout the entire south Pacific campaign. He was in the 3rd Marine Division that saw some of the worst fighting in Guam, Saipan, Tinian and Iwo Jima. The Pacific Command discovered his musical talents, and at a very young age he was directing and arranging for a staff of 125 men in music ensembles in the South Pacific islands.
On recommendation by people in the music business, Robert Berg changed his name to Bobby Bruce and used this as his professional name throughout his lengthy career. Bobby was a versatile musician and arranger; he played vaudeville, jazz, popular music and western swing. He has been seen and heard on radio and television since the early 1950s, and he had a lengthy studio career playing and composing for television and numerous motion pictures in Hollywood.
Bobby Bruce played dance bands and radio broadcasts with several western swing bands including Bob Wills, both in California and Texas. He also played with Leon McAuliffe in Tulsa, Oklahoma. Bobby launched an independent career in the early 1950s working with top country and western swing bands in southern California with Spade Cooley, Tex Williams, and Jimmy Wakely on broadcasts for CBS radio.
In the mid-1950s through the present, Bobby enjoyed a very successful career in studio and film recording in Los Angeles, California. On television and in recordings Bobby can be heard playing solos and singing on "The Lawrence Welk Show." He performed with numerous entertainers including the Carpenters, Johnny Cash, Ry Cooder, Charlie Daniels, Asleep At the Wheel, Dean Martin, Willie Nelson, Randy Newman, Dolly Parton, Ian Whitcomb, and Ike & Tina Turner, just to name a few.
On television he was featured on the Barbara Mandrell show, and numerous television programs including "Green Acres," "Columbo," "Bewitched," "Little House on the Prairie" and too many others to list.
Bobby can be seen in the movie "April Love" with Pat Boone, where he had a speaking part as a Band Leader. Bobby worked with Henry Mancini playing the lead solos in "Oklahoma Crude" and worked with Quincy Jones, earning him an Emmy Award for his work as the fiddler on "Roots." Bobby also can be heard playing solos throughout the entire motion picture "Jeremiah Johnson" with Robert Redford, and in the motion picture and subsequent album for the movie "The Sting" in a beautiful song called "Little Girl." Bobby has played as a soloist with numerous types of music from country, classical, jazz, rock, and pop on record albums and as a soloist in live concerts. Bobby was one of the most prolific recording studio violinists and fiddlers in the business.
In 2014 Bobby Bruce was inducted into the National Fiddlers Hall of Fame. He greatly appreciated this recognition of his lengthy musical career, as well as his contributions to so many aspects of the music and entertainment industry.
Bobby was married to Evan Berg for over 50 years when she passed away in 2001. Bobby is survived by his three loving children, Lisa Stephanie Berg, Danton Jay Berg, and David Seth Berg.
---
by Jon Kurnick
On Feb. 28 2018, the music icon, Robert "Bobby" Bruce passed from this world leaving a huge gap in the instrumentalist, arranging, studio and music performance industry. Although retired and not driving anymore, he still got out and played with various L.A. groups, thanks to his devoted children.
Bobby grew up in Chicago and played violin on the vaudeville circuit with his sister in the '30s. It was here that he heard the great jazz violinist Stuff Smith who influenced Bobby greatly. During World War II, he joined 3rd MEF (USMC) and served in campaigns Guam, Iwo Jima, Tinian, and Saipan. During the war, Bobby's musicianship was discovered by Pacific High Command and he was also given the job of leading various music orchestras, bands and combos.
During the '50s he played with the great country swing bands Bob Wills, Johnny Lee Wills, Leon McAuliffe, Spade Cooley and Jimmy Wakely, with whom Bobby played on CBS Radio.
In the mid 1950s, Bobby moved to Los Angeles and started his illustrious studio career which kept him busy and in demand for the years to come. Prior to meeting Bobby, I heard him featured on major films, playing CM on the Med Flory Supersax "Bird with Strings" album, and CM on David Rose TV shows.
I met Bobby playing with Abe Most back in 1978 and also got to see him playing with Johnny Gimble (the Texas fiddler), and the great jazz steel guitarist Maurice Anderson.
Back then, this aggregation worked at the NAMM show in Anaheim doing two sets for listening and dancing, the type of set you would see at any major Jazz festival. It was there that I first heard Bobby's signature talent of harmonizing standards in three-part voicings under Johnny Gimble's melody (and not the pop "piling thirds on top of the melody" we are forced to hear in the dentist's chair!). Bobby could do this impromptu all day whether the song was from Herbie Hancock, Herb Remington, or Harold Arlen. It was always wonderful to be a part of Bobby's family get togethers and jam sessions.
He and his late wife Evan always mentioned and displayed the myriad artistry of all their kids and grandkids. Bobby's bawdy humor that would accompany a Mozart divertimento or a jazz tune always floored me. (I suppose this is where Bobby's vaudeville training came in handy.) Bobby's effervescence and interest in playing music never waned despite inevitable ageing and health setbacks. It is this memory that everybody who knew him will keep forever and treasure as the measure of the man. Bobby Bruce, we love you!