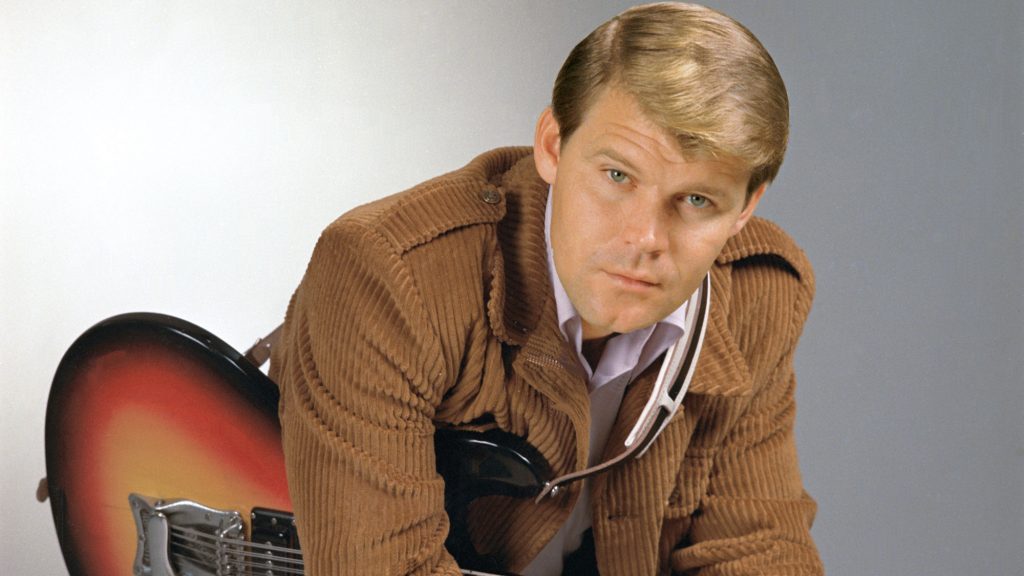 Life Member. Singer-songwriter/guitar
4/22/1936 – 8/8/2017
Glen Travis Campbell was an American singer, guitarist, songwriter, television host, and actor. A Life Member of AFM Local 47, he was best known for a series of hits in the 1960s and 1970s, and for hosting a music and comedy variety show called "The Glen Campbell Goodtime Hour" on CBS television, from January 1969 through June 1972.
During his 50 years in the music business, Campbell released more than 70 studio albums. He sold 45 million records worldwide and accumulated 12 gold albums, four platinum albums, and one double-platinum album. He placed a total of 80 different songs on either the Billboard Country Chart, Billboard Hot 100, or Adult Contemporary Chart, of which 29 made the top 10 and of which nine reached number one on at least one of those charts. Among Campbell's hits are "Universal Soldier", his first hit from 1965, along with "Gentle on My Mind", "By the Time I Get to Phoenix", "Wichita Lineman", "Dreams of the Everyday Housewife", "Galveston", "Rhinestone Cowboy" and "Southern Nights".
Campbell made history in 1967 by winning four Grammys in the country and pop categories. For "Gentle on My Mind", he received two awards in country and western; "By the Time I Get to Phoenix" did the same in pop. Three of his early hits later won Grammy Hall of Fame Awards (2000, 2004, 2008), while Campbell himself won the Grammy Lifetime Achievement Award in 2012. He owned trophies for Male Vocalist of the Year from both the Country Music Association (CMA) and the Academy of Country Music (ACM), and took the CMA's top award as 1968 Entertainer of the Year. Campbell played a supporting role in the film True Grit (1969), which earned him a Golden Globe nomination for Most Promising Newcomer. He also sang the title song, which was nominated for an Academy Award.
**************
A Remembrance of Glen Campbell
by Hal Blaine
Glen was more ill than anyone suspected. I was told that he would go from room to room and play and sing. No one knew who he was and he didn't know about anything surrounding him.
When we did his biodrama film, we all sat together on a sofa in the hallway of EastWest Studios in Hollywood, where we had recorded so many hits with so many famous entertainers, and talked about the early days of the Wrecking Crew. It seemed like Glen remembered lots of stuff but in reality, I think that he just smiled through all of our reminisces. None of our scenes with Glen were used, only the ending of us playing with Glen and recording his new song written with the great composer/arranger, Julian Raymond: Glen Campbell on his hit vocal, Don Randi on piano, Joe Osborn on Fender bass and me and my Zildjians and DW's…
That was our last get together with Glen, who was now a patient in an Alzheimer's hospice in Nashville.
I guess that all of my memories, in retrospect, were always fun-filled. Glen was now riding this amazing wave of stardom but always managed to never forget all of our basic music training, growing up with rock and country sounds, when we were looked upon as mere teenagers playing this new "simple genre" that would "only last a few weeks." When these aristocratic studio players finally realized what was happening, they wanted to become a part of this new genre and not be left behind. Unbeknownst to these classical players, we were all graduates of music universities, and were all classically trained in one aspect or another. We all became heroes of the industry. Producers came from all corners of the planet to record their music with the Wrecking Crew listed in the credits. Thank heavens. Glen was one of the Wrecking Crew founders. And again, thank heavens. He was the only home-trained musician that didn't read a note of music, but he proved his worth every song!
Everything that Glen recorded, with the Crew or with other musicians, were all hits. As for personal favorites, Glen always had a special place in his heart for the great song "Galveston," and I guess we all did. Of course all the great Jimmy Webb songs that Glen did were among his favorites, too. Jimmy Webb was a special writer in all of our treasure chests of memories.
Glen was always the same down-home country boy. With all of his musical accomplishments, the accolades thrown at him, and with the many musical awards thrust upon him — toss in his "goodtime" TV shows — and Glen never walked with his nose stuck up in the air. He was on cloud nine, enjoyed every bit of his fame and fortune but always looked back to his roots and the family upbringing and family traditions from Delight, Arkansas that were always close at hand. Glen will be heard on the airwaves for centuries to come, and for music folks that were and will be influenced by him.
I will always remember Glen, the kid that played more guitar than the law permitted and the star that I drove in the Hollywood Parade one holiday season! I was proud to have been just a speck on the wall of his career.