By Jon Burlingame, Shirley Halperin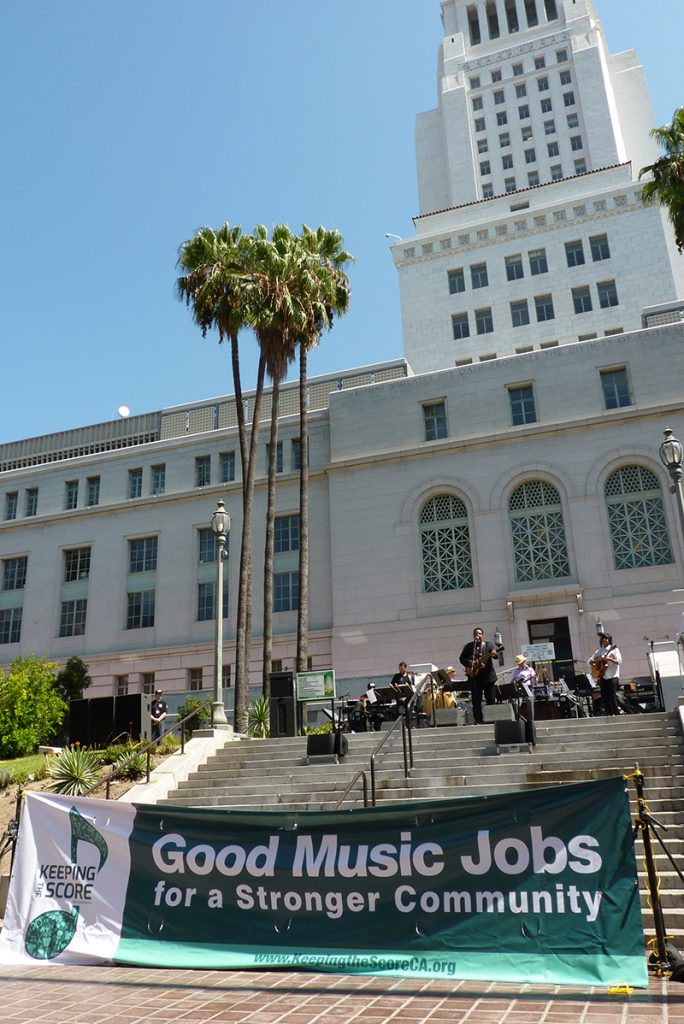 As part of an ongoing effort to return scoring jobs to California, some 150 music professionals supporting Los Angeles musician unions gathered on Saturday (Aug. 19) at Los Angeles City Hall for a free concert. They included members of Local 47 of the American Federation of Musicians, SAG-AFTRA and IATSE; and other music groups including the Society of Composers and Lyricists, the American Youth Symphony, the L.A. Chamber Orchestra, and the Recording Academy of Los Angeles.
Longtime "American Idol" music director Rickey Minor led a six-man band in music throughout the event, and songwriters Siddhartha Khosla and Chris Pierce performed "We Can Always Come Back to This," the Memphis-soul-style song that proved popular during the past season of "This Is Us."
The aim of the concert was to raise awareness for  Assembly Bill 1300, known as the "Music Scoring Tax Credit Bill," which would offer a 30 percent tax credit for movies shot outside North America that score in California and employ at least 35 musicians; and a similar credit for low-budget films, $5 million and under, that would score in California and use at least nine musicians.
The legislation was recently introduced by Assembly Majority Leader Ian Calderon, who commented that, "The heart and soul of a movie or television show is the music," adding, "Even if they film here in California, they'll still do the scoring outside the state, because they can get an incentive somewhere else, and we lose those jobs."
Calderon noted that AB 1300 was among his "top priorities" in the Assembly.
At the Saturday morning event, a statement from composer-songwriter Randy Newman was read that said, in part: "In the last 10 years or so, many filmmakers chose, for whatever reason, to record elsewhere. Film music has suffered because of it. Even great orchestras, in London or Berlin, the greatest in the world, couldn't do what our orchestras do. No other orchestras can play jazz or rock 'n' roll-inflected music nearly as well. I think the city or the state should do whatever they can to keep film music here."