Member. Cello/Bassoon/Contractor
12/7/1960 – 8/21/2017
by Lynn Grants
Born in New York City, Maurice remained a quintessential New Yorker, even after his family relocated to Los Angeles when Maurice was in his early teens. On discovering that his new school didn't have an orchestra, he organized one, recruiting like-minded friends, and setting up a rehearsal schedule. This expanded to his forming a community orchestra, the Symphony of the Chaparral, in the Sunland-Tujunga foothill communities. He took on conducting duties with the orchestra, as well as setting programming, securing rehearsal and performance space, and acting as personnel manager.
Although he worked primarily as a cellist, Maurice was also a bassoonist. I vividly remember him playing the contrabassoon solo in Beauty and the Beast form Ravel's Mother Goose Suite. We met in college at California Institute of the Arts, and started a string quartet to play Bartok #4. In the course of our 33-year marriage, we played Bartok, and a great many other things, with school friends who have also become life-long friends and colleagues.
Maurice also had a passion for history, and for genealogy. It led him to extensive research on his and my family trees, and to his forming several cousins groups and organizing family reunions all over the country. He had a real gift for bringing people together, both in person, and in cyberspace, and thoroughly enjoyed the detective work involved in tracing family trees. His interest in history eventually led him to participate in Civil War historical reenactment, and he was as careful in his attention to historical detail as he was to musical details.
As contractor of Music Angelica, he was instrumental in drawing up the ensemble's first-ever CBA, and, starting as contractor for the Paulist Choristers, he stayed with as it grew into the National Children's Choir, which saw him contracting musicians both in Los Angeles, and the East Coast.
Maurice was a firm believer in everyone getting a fair deal, and that led him to serve on the Pasadena Symphony's Orchestra Players' Committee as chair, and to act as the Pasadena Symphony's ROPA representative. As well as being the ROPA representative for the Pasadena Symphony, he was also elected to serve as a ROPA Parliamentarian, serving a term as ROPA Delegate to the AFM.
Maurice loved to travel, and combined that love with his love of music, touring twice with Yanni, with Eric Clapton, and with the Los Angeles Mozart Orchestra (Voices of Light). He always made the most of those tours squeezing in sightseeing adventures, and of course, searching out the best food. His life was lived richly, and fully and his memory will live on in the many, many lives he touched.
---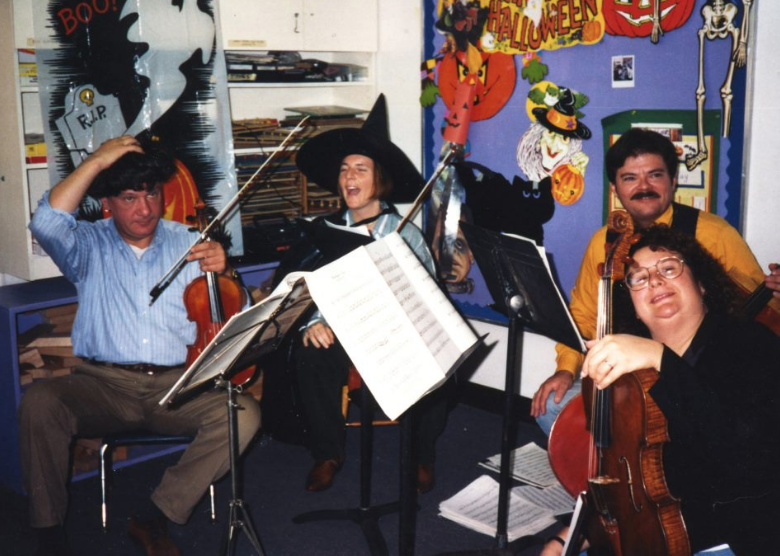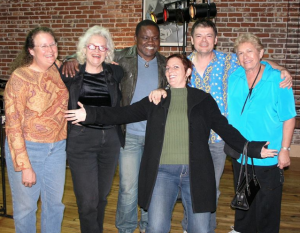 by Elizabeth Wilson
I met Maurice and his wife Lynn shortly after arriving in Los Angeles in 1991 and we have been friends ever since. We spent countless hours reading string quartets. Maurice had a vast knowledge of this repertoire and was quite exacting in his expectations. But he was a beautiful cellist with a soulful sound that was never fully appreciated. I told him this often. Anyone who plays chamber music understands the intimacy of communicating though the music itself: phrasing, a held note, a gesture. Those hours of reading together will remain with me for always.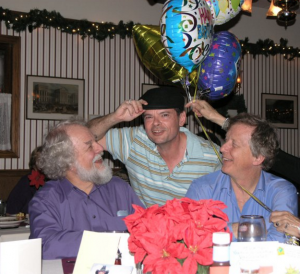 As a friend he was always generous with his time and his knowledge. He could sometimes come off as brusque and too straight forward…. or too New York, as he would say. But when you got passed that outer layer you knew he would do anything for you. When my late husband, violinist Igor Kiskatchi, had a brain aneurysm I called Lynn and Maurice. They helped me to move everything out of his apartment while he lay in the hospital. 13 years later when he died at home at 230 AM , again it was Lynn and Maurice who rushed over in the middle of the night to be with me.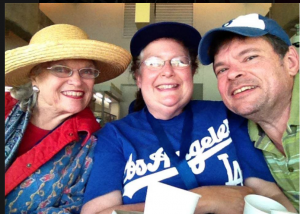 I imagine my thoughts not to be unique that when we think of our own mortality: we hope to have lived a life with meaning, to have impacted people, to have loved and be loved …and to be remembered. That is all true of you Maurice. We will remember!
May his memory be a blessing.
---
by Alan Steinberger
Maurice Grants and I became instant friends back in the early '80s when he was playing cello in the house orchestra at Harrah's Lake Tahoe, and I was pianist/conductor for a headliner in the big casino showrooms. Whenever I came through town Mo would wrangle up a handful of string players, and we would get together in off hours to read chamber music on stage — a real breath of fresh air for us all after playing the same show night after night.
I was struck then by his unrelenting high standards and passionate attention to detail, whether with regard to pitch within the ensemble, the shape of a musical line, or simply the ingredients going into that evening's meal. Everything had to be just so or he'd turn his head a few degrees, and you'd see that sly look simultaneously conveying both humor and exasperation.
Mo quietly maintained those standards throughout his life, whether in coaching a colleague preparing for an audition, or serving as a fierce advocate for his fellow orchestra members in union negotiations. Yet he would consistently shun any credit for all of his hard work behind the scenes.
He leaves behind a huge void in the lives of many as cellist, friend, and not least, husband to his beloved wife of 33 years, Lynn. May his memory continue to serve as inspiration for a life filled with both talent and accomplishment.
---
by David Young
Maurice Grants was a quintessential freelance musician. His playing was widely respected for his contribution to everything from recording projects, symphonies, far-flung tours, and the list goes on. But he wanted to belong, to contribute. He researched family history [that even led him to civil war re-enactment events] and connected far-flung cousins and created family reunions.
This desire to be a part of family extended to his desire to contribute to the community of musicians. He did yeoman service on contract negotiating committees, and was a member of the ROPA board. But his desire for connection also found expression in his music-making style. He sought with every note to be part of the best, the sweetest, and the wisest interpretations possible.
Playing chamber music with him was unforgettable; he could be fierce in his pursuit of satisfying intonation and blend. I got to stand next to him playing hundreds of children's concerts, and I can attest that he took not a note for granted.
To speak about Maurice is to try to asses his life's accomplishments in service of music and in service of his colleagues. By any measure, Maurice, you were a complete success. We're enriched to have been with you. We are inspired anew to give our best to our precious craft and stand together to insist on the best conditions for our work.
Thank you for your life, Maurice.