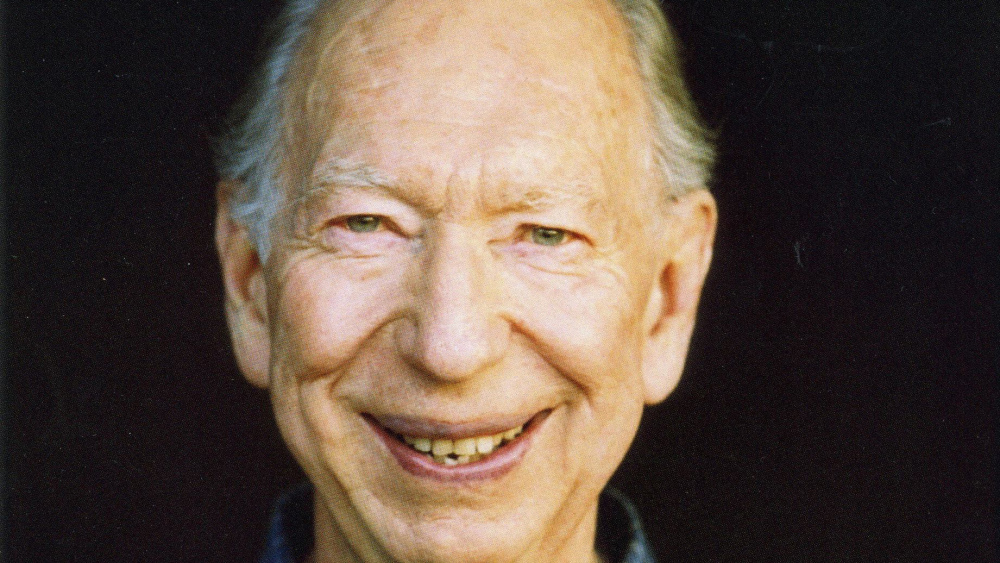 Life Member. Trombone/Bass
1/18/1928 – 11/30/2018
by the Burton daughters
Lifelong AFM member Roger V. Burton died on Nov 30, 2018 at home in Santa Monica, surrounded by his family. A jazz musician, developmental research psychologist, and television actor, he was 90 years old.
Starting his career as a professional musician at age 11, Dr. Burton distinguished himself as a jazz trombonist in big bands and studio film soundtracks. With the affectionate jazz nickname "Schoolboy" (from the fact that he used his set breaks to do his homework), he entered USC at 16 where he graduated with a BA and BM in Music, as well as a MA in Sciences and was a Laura Arkell Platt Scholar. He played with Peggy Lee, Andre Previn, Nat King Cole, Johnny Ray, Frankie Laine, the Lennie Niehaus Octet, the Ink Spots, the Chuck Cabot Band, Dick Pierce Band, was a regular on Ernst Gold studio recordings for films, as well as the Hoagy Carmichael show on NBC.
After getting informal lessons from a friend, Charles Mingus, he switched to the bass and to playing in smaller combos. He played in combos throughout his life. Following his writing a response to a psychology study that claimed musicians were irresponsible, he was invited to pursue graduate studies in the field of psychology, and given a full scholarship to Harvard University. Burton became a developmental psychology researcher at the National Institute of Mental Health, with a specialty in the development of morality. He worked with researcher Jean Piaget in Switzerland in 1967, and Burton's work, especially his research with John Whiting, continues to influence the field. Publications include: "Resistance to temptation in relation to sex of child, sex of experimenter, and withdrawal of attention," "Differential movie-viewing behavior of male and female viewers," "Effects of baby walkers on motor and mental development in human infants," and "Generality of honesty reconsidered." He was also a consulted expert for news stories dealing with issues of morality, father-absent homes, and gender roles regarding viewer influence related to media.
Burton was invited to become a full professor at SUNY Buffalo in Moral Development and Childhood Social Development, and he took the job because he wanted to be an equal parent to his five daughters. A distinguished professor, he also worked on cross-cultural studies with psychologist Yoshimasa Nakasato in Japan, and he launched a department of psychology in the University of Kuala Lumpur as a sibling school program with UB.
After a full career as a professor in Buffalo, he retired to accompany his wife to Los Angeles, where she was screenwriting. There, he began his third act with a new career: as an actor in film and television. For the last couple of decades, he's worked in national & international television commercials, television shows, and films, including playing the character Philips in the TV series "The Cool Kids" on FOX, playing Zach Galifianakis' father-in-law on "Baskets," and roles on "Shameless," "The Clapper," "My Name is Earl," "Fargo," "Super Clyde," "American Body Shop," "Monk," "House," "The George Lopez Show," "Up All Night," "America Idol," "Good Morning America," "The Tonight Show," and the Sony/MGM film "Manna From Heaven" (with Cloris Leachman, Wendie Malick, Shirley Jones, Frank Gorshin, Seymour Cassel, Jill Eikenberry, Shelley Duvall, Austin Pendleton, and Louise Fletcher). He also starred with Peri Gilpin ("Frasier") in an upcoming short film, "Old Guy," about the stereotyped depictions of aging in American media. Produced by his five daughters' film company (Five Sisters Productions), the short was inspired by Burton's pointing out that parts for older people often fell into simple stereotypes and got no name in scripts other than "Old Guy."
Outside of work, he and his wife believed that having adventure as a family was possible and important, and with their five daughters they backpacked through India and Southeast Asia, bicycled and camped through Europe, followed the Donner Party trail for his wife's book research, hitch-hiked across Alaska. Ten years ago, he and his wife did a yoga-service trip with the GO Campaign to Africa, climbing to the base camp of Mt. Kilimanjaro at 80 years old. A feminist advocate, he toured in the early 70s with his wife (novelist and screenwriter Gabrielle Burton) as opening speakers for Gloria Steinem, talking about their commitment as parents to defining gender roles and housework more equally. Burton was politically engaged in civil rights and gender equality marches from the 1960s through the current day, and he also served as a poll worker with his strong belief in voting rights for all Americans.
Burton is survived by his daughters, Maria Burton, Jennifer Burton, Ursula Burton, Gabrielle Burton, and Charity Burton, his sons-in-law, David Mathieson, Aniruddh Patel, Graeme Boone, Darin Henry, Steve Duron, his sister JoDe Kielhofer, his nieces and nephews and their families, and his eight grandchildren.