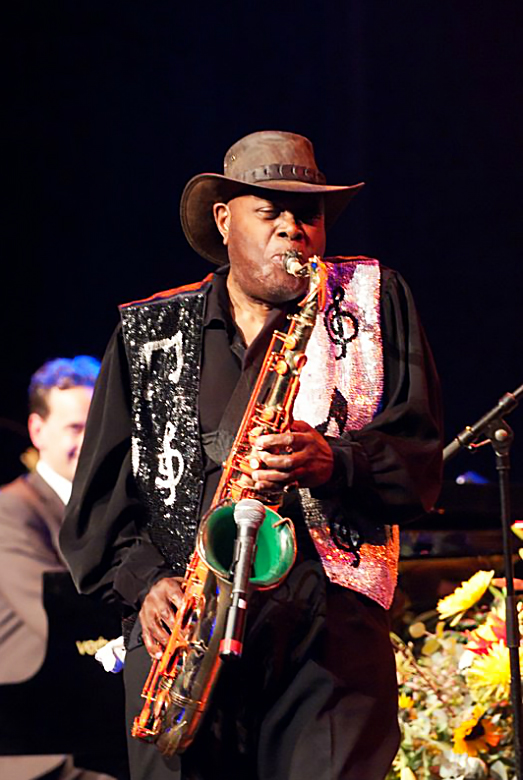 Big Jay McNeely made some of the biggest waves on the 1940s R&B scene with his screaming tenor sax and still reigns supreme
His mighty tenor sax squawking and bleating with wild abandon, Cecil "Big Jay" McNeely blew up a torrid R&B tornado from every conceivable position — on his knees, on his back, being wheeled down the street on an auto mechanic's "creeper" like a modern-day pied piper. As one of the titans who made tenor sax the solo instrument of choice during rock's primordial era in the late 1940s, McNeely could peel the paper right off the walls with his sheets of squealing, honking horn riffs.
Big Jay had been retired from full-time music for 20 years, but in 1983 he returned to performing and hasn't looked back. He is still tearing it up at venues around the world and knows how to delight and entertain an audience of any size, from small clubs to stadium crowds. He speaks here with Linda A. Rapka about his incredible musical career.
You became known as "the king of the honkers" as much for your skill on your instrument as for your flamboyant stage presence.
"I first started playing in Clarksville, Tennessee, a small little country town down south. People didn't respond to our music. After intermission I was trying to figure out what I could do, so I got on my knees and laid on the floor. The crowd went wild. After that I said lemme try this again. I laid down anywhere I could get the suit clean the next day. When I got to L.A. a couple sax players started copying my act."
You also have a pretty unique looking horn on stage.
"I got my horn took to shop and told him fix it up with black light fluorescent paint. I'd put on white gloves and turn off the lights, and all you could see was my glowing sax and gloves. I used to get two horns, one painted and one not, when I did my act I would change saxes. For another horn, a friend painted the keys and had the bell sprayed. The horn that I recorded with in 1949 is on display at the Experience Music Project museum in Seattle, in the same room as Jimi Hendrix' guitar and Eric Clapton's hat."
In May you were inducted into the Blues Hall of Fame in Memphis.
"It's kind of funny how it happened. I recorded with a kid in Cologne, Germany, in a rockabilly band. They sent my CD to the Blues Hall of Fame and they decided to induct three saxophone players."
Your songs have been covered by the likes of B.B. King, Etta James, Albert King, and Gene Vincent. Do you have a favorite cover?
"B.B. King did his comedic version of 'There is Something on Your Mind' with Etta James. That one sold more than the original version."
What are you working on now?
"I'm flying to France July 1 to play in Paris. I still do a lot of rockabilly festivals. One festival I did in Melbourne in 2010 had 14,000 people! I still record. I have my own label now and have been recording a lot of stuff. I did 'Cherry Pie' with Dana Gillespie, and some albums in Cologne. I did a country album, 'Welcome to California, Now Go Home.' I've done some electronic stuff called the Engenius, totally different than what people would think I'd do."
That's quite a departure from your jazz roots.
"I also just did a thing on tribute to Jack White, 'Rockin' Legends.' He covered 'I'm Shakin'' and I do a version with Nik Turner. The Cleopatra label did a tribute to him that got 15 artists, and I'm track two on the album."
What advice do you have for musicians?
It all depends on what you want to do. They should study and learn as much as they can about the music. When you study then you're able to deal with any situation you come up on.