The incredible journey of 'Matt and Maya'
by Linda A. Rapka
Sometimes when making a film, what goes on behind the scenes makes for a compelling story all its own. And one would be hard pressed to find a more impressive example than the story of "Matt and Maya."
It all began at the Motion Picture and Television Fund, a not-for-profit charity located in Woodland Hills founded in 1921 to serve members of the entertainment industry as a retirement and assisted living facility, as well as a creative space for individuals to thrive in their later years. Among the many programs offered to MPTF residents include opportunities to create films and television programs that are broadcast on a closed-circuit station on the property.
Six years ago Jon Huntley moved onto the MPTF campus to receive services to help him battle ALS, a nervous system disease that impacts physical function that prohibits him from movement or speech. He holds a master's in film and production from USC but never worked professionally in entertainment, having instead found a career as CEO of a financial firm. Now 50 and in the advanced stages of ALS, against all odds he finally put his degree to work.
Jon came to know the Fund's director of media, Jen Clymer, while working with her editing shows for their CCTV station, Channel 22. Using technology called Eyegaze allows him to control a keyboard and cursor and communicate by synthesized speech via the movement of his eyes. Through this painstaking and laborious process, he uses his eyes alone to make and edit films with Final Cut Pro and Final Draft.
"Watching him edit, you know the dedication he has to make these really, really long, arduous but patient edits," Jen said. "He's not able to just do three keystrokes and move on. A regular shortcut that editors take in a matter of seconds, it takes him minutes to do. But Jon told me that editing for Channel 22 was the best medicine for ALS."
Over the past year Jon had been working on a script called "Matt and Maya" and approached Jen about producing it. "I knew that we needed to make his script into a reality to continue his creative purpose," she said.
To make this tale come to life — and Jon's vision a reality — over 100 volunteers came together. People from all sectors of the industry, ranging from high school and college students to members of American Federation of Musicians, I.A.T.S.E., MPTF NextGen members, and retirees, all took on a role in donating their time and efforts to make this film.
When time came for the musical score, they reached out to composer Shie Rozow through Mark Helfrich, a mutual friend. "I was so taken by the whole project, and then I learned a little more about Jon," Shie said. "I was thinking, what can I do other than just write a score?"
So he started making some calls.
One of these calls was to Rob Thies, one of the 24 musicians who volunteered their time and talents to participate. "Rather than go the easy road of providing a MIDI score, Shie thought it would be an incredible gift to give Jon a live scoring experience," Thies said "Though we did it under contract and benefits are being paid, all 24 musicians banded together and are refusing paychecks, instead donating their time to help Jon get his film made. By helping Jon make his film, we all feel like we are getting something meaningful in return, because in a way, we are celebrating the tenacity of will and best of humanity."
Shie reached out to Greg Curtis at The Bridge Recording in Glendale, who immediately offered the studio free of charge. (Shie came to find out he even paid his employees out of pocket for the three-hour session.) Then he got to work reaching out to friends, who happen to be among the top talent on the Hollywood recording scene. "Noah Snyder donated his time to record and mix the score," Shie said. "Bruce Dukov, Brian Dembow, Stephen Erdody, Rob Thies, Stuart Clark… The level of people we had was the top, top quality. And they played their hearts out. I cannot begin to express how grateful I am to each and every one of them for doing this."
The original plan was for Jon to attend the scoring session. However, due to an unfortunate series of scheduling delays and some unexpected health struggles, he was unable to attend in person. So they did the next best thing, and Jon called in by video conference on his iPhone. At the start of the session Shie invited Jen, with Jon on Facetime, to the podium to introduce the musicians to the project. "We had a brief conversation of sorts with Jon," he said. "He melted all of our hearts. She asked if he had anything to say, and a recorded computer voice said, 'I love you.' Throughout the whole room, emotions went through the roof. We all knew we were doing something special."
Photo stills from video by Stefan Colson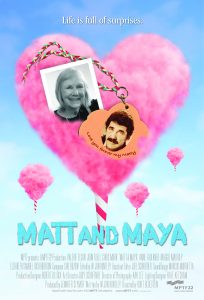 On Sunday, July 15, 2018, everyone saw the results of their hard work at a special viewing party hosted for cast and crew at the MPTF's Louis B. Mayer Memorial Theater. Jon sat front and center during the two near-capacity screenings of "Matt & Maya" then joined in a reception in celebration of how this creative community came together and shared their skills and resources to help an individual realize his creative vision.
Based on Jon's own experience at MPTF, "Matt and Maya" tells the story of a woman living in an assisted living facility who loses her husband of 50-plus years. A fellow resident who is wheelchair bound befriends her and helps her through her grief.
"The fact that people believed in this project and wanted to see it get made and come to life is a fantastic thing," said Jon's wife, Rebecca Huntley. Jon plans to submit "Matt and Maya" to film festivals, and already has a few more scripts in the works.
"Many of our volunteers have been touched by the services MPTF provides and some of them are paying it forward," said Fredda Johnson, director of volunteer engagement. "All the volunteers are playing their part in carrying out our mission of supporting the entertainment community by living and aging well with dignity and purpose."
"I could see a movie being made about Jon making this movie," Rozow said. "It's such an inspiring story, and he's such an inspiring man. I feel very, very fortunate that Mark thought to call me and brought me in on this. I've been very fortunate to work on over 100 movies and countless hours of TV in my career, yet this project is like nothing else I've ever done. This is the kind of project that I hope one day when I'm old and gray, or long gone, my kids tell their kids about when they tell them stories of their grandpa."
>> Listen to the title track of "Matt & Maya":
'Matt and Maya' Orchestra
Violin
Bruce Dukov, Alyssa Park, Joel Pargman, Irina Voloshina, Kevin Connolly, Susan Chatman, Tereza Stanislav, Lisa Dondlinger, Ben Jacobson, Kirstin Fife, Gary Kuo
Viola
Brian Dembow, Shawn Mann, Zach Dellinger, Andrew Duckles
Cello
Steve Erdody, Stephanie Fife, Cecilia Tsan
Bass
John Hatton, Michael Valerio
Flute
Boglarka Kiss
Clarinet
Stuart Clark
Bassoon
Anthony Parnther
Piano
Robert Thies
Composer
Shie Rozow
Special thanks to Greg Curtis, owner of The Bridge Recording (which recently closed its doors) for donating his studio and staff