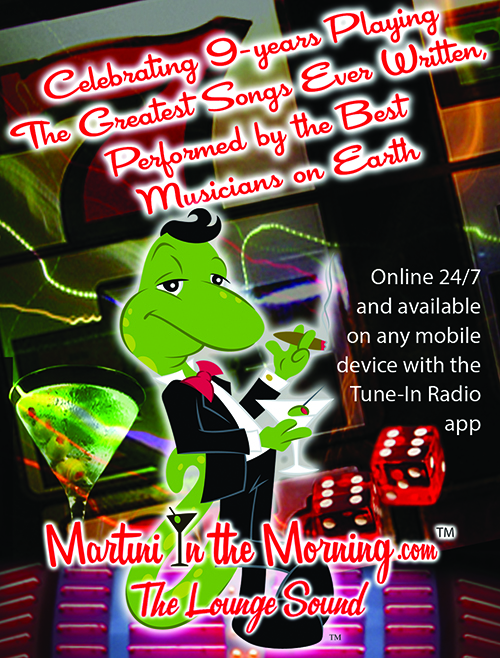 Popular radio personality partners with Local 47 to promote AFM musicians
by Brett R. Henry
Now entering its tenth year of broadcasting, "Martini in the Morning" has been bringing audiences the coolest, swingin'est, most romantic songs on the radio, "The Great American Songbook," all day and every day to an ever-growing worldwide audience.
At the helm of "Martini in the Morning" ("MITM") is Local 47 member Brad "Martini" Chambers, who hosts the weekday morning drive-time show, as well as being the station's founder and chief creative officer. Music best enjoyed while sipping a nicely-chilled martini, and reflecting a musical heritage involving some of Local 47's finest and most talented musician members.
His program brings the classic cool of Frank Sinatra, Ella Fitzgerald, Bobby Darin, Tony Bennett and Dean Martin – and the 'Contemporary Cool' of Michael Bublé, Steve Tyrell, Diana Krall, and Jane Monheit. "Mother Miriam" Garfield is Brad's comic foil every weekday morning. Often getting in a few well-targeted zingers of her own, their banter can be described as a channeling of the repartee between George Burns and Gracie Allen. Rounding out the show's stable of talented and musically knowledgeable personalities are Harry Young, John Van Camp, Lara Scott, and Michelle Briddell, who present the station's distinct "lounge sound" genre of music to listeners around the globe.
"MITM" is partnering with Local 47 to develop a portfolio of exciting new projects and outreach programs aimed at arts education and broadening fresh public awareness of Local 47's work, as well as the work of its many talented members who too often perform in obscurity. Currently in the works is a new program on Local 47's internet streaming service featuring interview highlights from past "MITM" shows with composers, musicians, performing artists, and others within the music industry that have played an important role in keeping the "lounge sound" alive. Recent guests have included lyricist Alan Bergman, bandleader/composer Ron Jones, singers Steve Tyrell, Jack Jones, Deana Martin, actress/singer Renee Olstead, and music journalist Fred Bronson.
Also coming soon is "LIVE at 47," a groundbreaking new live video stream originating from the rehearsal halls and other performance spaces at Local 47 headquarters. Viewers will have the opportunity to see live what goes on behind the scenes and interact with musicians rehearsing and preparing for upcoming shows. And, this is just the beginning.
"Martini in the Morning" can be heard online at MartiniInTheMorning.com, on iTunes and with the TuneIn Radio mobile smartphone and tablet app.