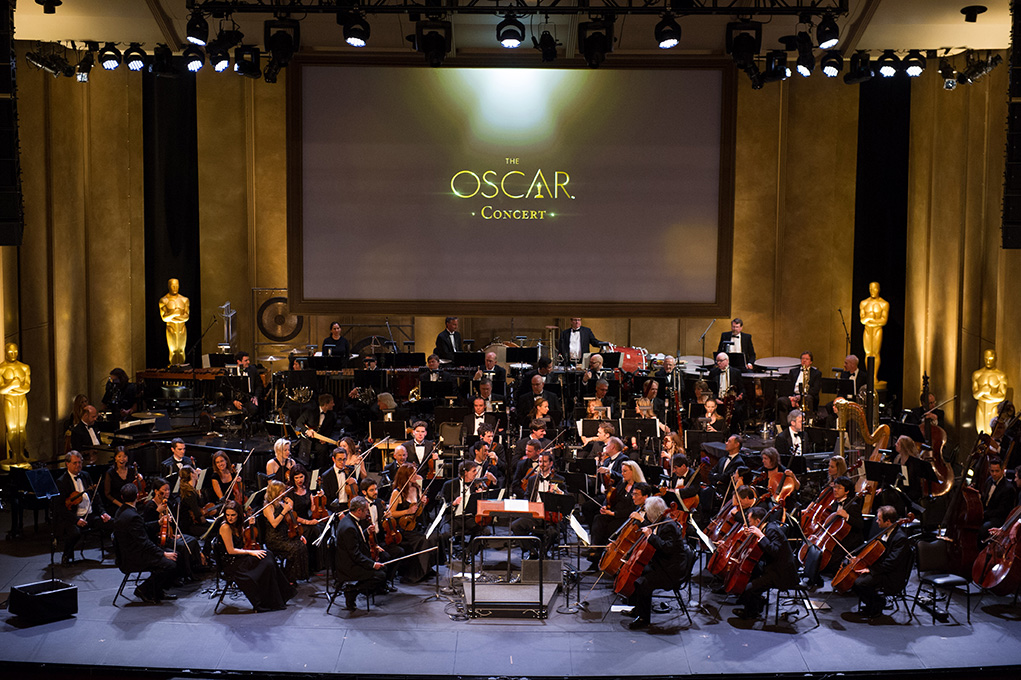 Photo by Aaron Poole/© A.M.P.A.S.
Motion Picture Academy debuts first time Oscar Concert
by Linda A. Rapka
The Academy of Motion Picture Arts and Sciences presented the first live concert of the year's Oscar-nominated music at UCLA's Royce Hall Feb. 27, three days before the 86th Annual Academy Awards.
Alternating between performances of the year's nominees for best original score and best original song, the historic concert featured the 80-piece Academy Symphony Orchestra comprising some of Los Angeles's finest studio musicians.
Hip hop artist and actor Common served as host, and film critic and radio host Elvis Mitchell led a brief discussion with each composer before they conducted an eight- to 10-minute suite from their nominated score.
"The Motion Picture Academy has never had a concert in 86 years," said Charles Fox, a longtime Local 47 member and governor of the Academy's music branch. He, along with fellow governor Arthur Hamilton, spearheaded the historic concert, which took more than a year and a half of planning. "We really thought we could do something special, something spectacular."
Among the suites performed were those from films originally scored by AFM Local 47 musicians (many of whom were on stage that night): "The Book Thief" by John Williams, and "Saving Mr. Banks" by Thomas Newman. Performances of best song nominees also originally scored in Los Angeles included "Let It Go" from "Frozen" and Happy" from "Despicable Me 2."
"While this concert was a celebration of motion pictures, it was also a celebration of the music, and the musicians themselves," Fox said. "We were honored to have some of the very best studio musicians in the world performing that night."
Orchestra contractor Gina Zimmitti was in charge of putting together the stellar orchestra for the performance. "What a privilege and unique opportunity it was to be a part of the first Oscar Concert," she said. "Our orchestra did an amazing job adapting to and serving the different styles of each nominated score. I know I speak for us all in giving deep appreciation to the Academy for highlighting film scoring in this new way."
The Academy made it a point to be sure the orchestra members were given the honored reception they deserved.
"The lights went down, the stage was empty, and all 80 members walked out and took their places. The whole audience erupted. They came in like the featured players they are, and the audience gave them a fantastic reception right away," Fox said, describing how this contrasts a typical concert where the musicians are already seated on stage as the audience fills the hall.
"It was truly a historic event for the Motion Picture Academy and for the great L.A. studio musicians," he said. In future years, the Academy aims to have the live concerts broadcast by PBS as well as cinecast in theaters worldwide.
"This could become a fantastic international event."