Union commercial work is under attack, and SAG-AFTRA members are fighting back.
A crowd of more than 1,000 actors and supporters including musicians, stage performers, stunt workers, directors, writers, and Teamsters held a rally in Los Angeles on Jan. 23 calling out ad agency Bartle Bogle Hegarty for abandoning its responsibilities as a 20-year SAG-AFTRA signatory by shooting non-union commercials.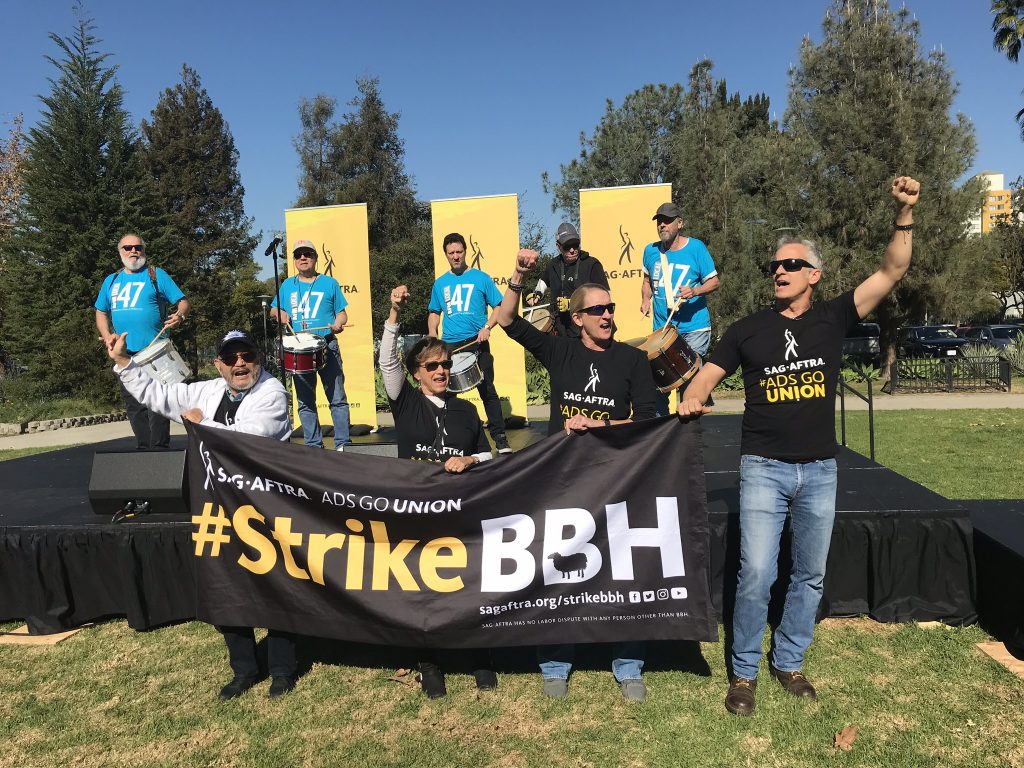 Leading the march from SAG-AFTRA headquarters to a rally on the La Brea Tar Pits lawn was an all-union Local 47 drumline. A group of fiery speakers took to the stage including SAG-AFTRA President Gabrielle Carteris, SAG-AFTRA Los Angeles President Jane Austin, actor Patrick Fabian, AFM Local 47 President John Acosta, LA County Fed President Rusty Hicks, Teamsters Local 399 Secretary/Treasurer Steve Dayan, IATSE Second International Vice President Thom Davis, and L.A. Board of Public Works President and chief film liaison to the Mayor, Kevin James.
"I have a message for you today," President Acosta said from the stage. "We are with you. Your fight is our fight. An injustice against an actor is an injustice against a musician… And we have a special telegram for BBH: Shame on you. Shame on you for attacking middle-class jobs. Shame on you for attacking health care. Shame on you for attacking pensions."
Solidifying AFM's commitment to standing with SAG-AFTRA, Acosta proclaimed: "As long as you are out, we are out. We are with you… Because if there's no contract, there is no peace."
SAG-AFTRA has been on strike against BBH since Sept. 20, 2018. For updates on this campaign visit sagaftra.org/strikebbh.