Keeping classical & jazz alive one classroom at a time
by Linda A. Rapka
A self-proclaimed torchbearer for its uniquely innovative hybrid art, the Symphonic Jazz Orchestra proudly stands as the only orchestra in the nation dedicated solely to blending the worlds of jazz and classical music. Since its founding in 2001, the 67-piece orchestra has commissioned 13 new works and performed seven world premieres, along with three U.S. premieres. Each year SJO presents a free symphonic jazz concert for the community at the Carpenter Performing Arts center at Cal State Long Beach, and this year's concert in March included a rare arrangement of "Rhapsody in Blue" with Grammy Award-winning pianist Bill Cunliffe.
But there's another side to the orchestra that, though little known, is making a huge impact in our communities. In addition to live performances and commissions, SJO pursues another mission: music education and outreach to underserved youth. About five years into the orchestra's existence, music director Mitch Glickman debuted the Music in the Schools program once a week in four classes in his home school district of Culver City.

"It's something that has grown very organically," Glickman said. "We got a grant from the state to do a pilot program, which we called Bach to Bebop — a classical/jazz hybrid. We figured, let's give the kids the full spectrum, 400 years of music, and see what happens. In the beginning it was just me. I'd bring in members of the orchestra as special guests. Wonderful, legendary musicians — and they have a great time with the students. That's the key."
SJO teaching artist Danielle Ondarza, a freelance horn player who has performed with many orchestras including the LA Chamber Orchestra and LA Master Chorale, taught the first grade program and a few kindergarten classes for about 10 years.
"It was a really great experience," she said. "One of the coolest things is that you go into the classroom itself. The kids are in their environment, in their home, so to speak, and you also have backing of the teacher. It's really helpful to have that classroom experience. You're always the celebrity when you come in. They have their normal day and they like their teachers, but this is music. They get this once a week for 25 minutes, and for many of them it's the best thing they do all week."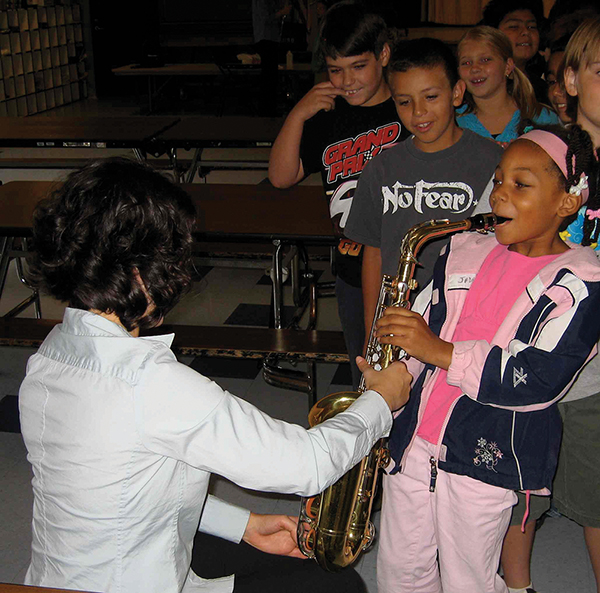 The program's robust curriculum integrates with and enhances students' understanding of math, reading, science, history, and creative writing. The transformative power of music upon the young minds in these classrooms becomes immediately apparent.
"Beyond the pure joy that the performances bring, and the music lessons that also cover history and science, we now see that the music instruction builds success in mathematics," said R. Labriola, principal of Linwood E. Howe Elementary School in Culver City. "How can you get better than that?"
Buzz about the program quickly spread to area school districts and the program became high in demand, especially in South Los Angeles. "In some of the areas we serve, like Compton and Watts, the schools have had no arts education in decades," Glickman said.
Music in the Schools now reaches 4,500 students in more than 150 classrooms each week, spanning five districts in some of the most under-served neighborhoods. "Because of generous donors and funders, weekly music education is able to happen every week in Watts, Compton and Long Beach," Glickman said. SJO teaching artists also continue to inspire students in numerous grades in all five Culver City elementary schools where the program got its start.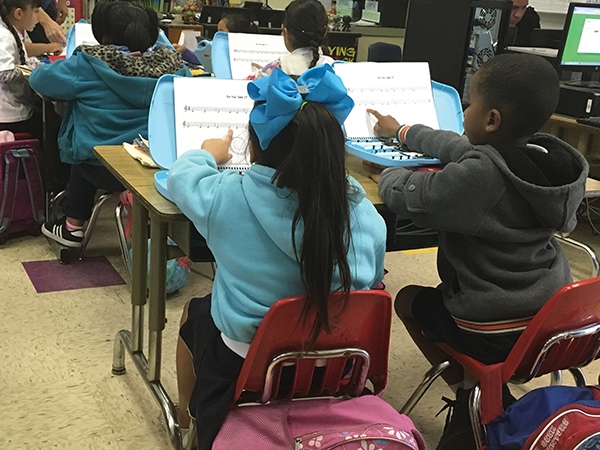 "Elementary aged children learn best by hands-on example, so interacting with music consciously by singing, dancing, learning to play instruments, as well as creating/writing music, are some of the best ways for children to experience it," said SJO teaching artist and jazz musician Dave Robaire. "Studying and performing music in a group setting can improve students' communication skills, literacy, test scores, and their ability to work with others."
The kindergarten "Intro to Music" residency teaches students solfege, rhythm and musical pitches on the staff. For first graders, "Playing the Bells" residency teaches rhythm and notation and allows the students to play their own glockenspiel. The fourth grade "Bach to Bebop" residency gives students the chance to analyze song structure, improvise on the keyboard and ultimately compose their own blues songs.
"They're learning the true language of music," Ondarza said. "It's not watered down in any way. It's the legit stuff — they're learning it, they're using it, and it's really fun for them. You get to see real growth every week."
"Music is important to teach to children because it has the power to change lives, and is one of the most effective and positive things for development," said David Tranchina, SJO teaching artist and bassist. "It is well known that music has the power to increase intelligence and gives the brain a cognitive workout that is unique to music. But most importantly music can help heal the soul, makes us feel joy, and is a way to express our emotions in a deep way."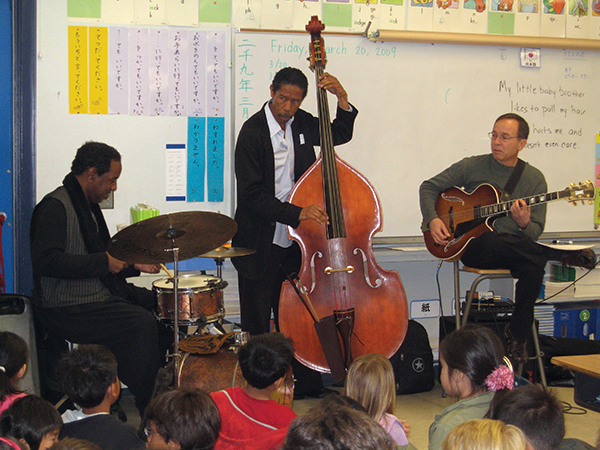 This holds especially true for many children who may otherwise have difficulties expressing themselves in the traditional classroom setting.
"Some of the kids who are much more challenged in school, either for attention reasons or have special needs in some way, those kids struggle in regular subjects," Ondarza said. "But in music, when they get something, they know it right away. It's very tangible. With reading and things it's sometimes hard to see your own progress, and that gets frustrating for some kids, but in music you can tell right away. They often didn't need their aides during music lessons. That's the power of music. It's higher-level math thinking. It involves motor skills and being able to multi-task; count out loud and read a note at the same time, and physically find it and play it. There's something about that package that makes it fun and less frustrating, and a lot of those kids really excel in this program."
The benefits of Music in the Schools extend not only to students, but to the instructors as well. "As a teaching artist it's fun too because it's visual, aural, and kinetic," Ondarza said. "For me the kinetic is the most challenging; finding a way to make their body part of the learning process. What I did was for whole notes, the kids would hold their hands above their head and twirl around slowly four times. For half-notes they'd make T. Rex arms and wiggle around two times. For eighth notes they'd march in place. In doing all this, they are getting rhythms in their bodies. It's really clever learning, and that is the beauty of Mitch's curriculum."
"What I have been able to achieve through this stage in my career I owe to the special educators that took the extra time, showed compassion, and believed in me as a student, artist, and human being," said Jonathan Richards, SJO teaching artist, bassist and composer. "I believe music education is incredibly important. I want to give back, and hope that I can make a difference in a young person's life. Whether or not one decides to make a career out of music, exposing children to the arts is a critical part of their development and can have endless benefits."