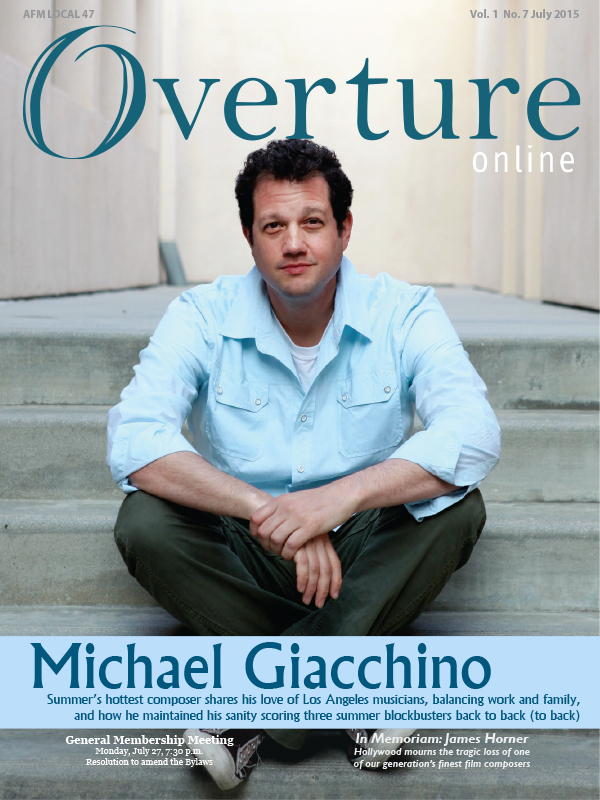 Overture Online: July 2015
NEW ISSUE OUT NOW – Read the Overture Online on your smartphone or tablet available from the App Store or Google Play.
Overture Online is optimized for reading via smartphone or tablet. Those without access to a smart device may also access the new issue on a web browser (must have flash enabled).
Cover Story:
Q&A WITH MICHAEL GIACCHINO
Summer's hottest composer shares his love of Los Angeles musicians, balancing work and family, and how he maintained his sanity scoring three summer blockbusters back to back (to back)
---
Also in this issue:
IN MEMORIAM: JAMES HORNER
Hollywood mourns the tragic loss of one of our generation's finest film composers
GENERAL MEMBERSHIP MEETING
Monday, July 27, 7:30 p.m.
and more!

Members: Watch your mailboxes…
Local 47 members will soon be receiving the print Summer magazine in the mail. These print issues contain additional news not found in the public Overture Online, such as Resolutions to amend the bylaws, member status updates, and other announcements requiring due notice per the Bylaws. If you are a member in good standing and didn't receive your print copy, email us or view it online by logging in to your member account at afm47.org.
Browse past issues of Overture Online here.