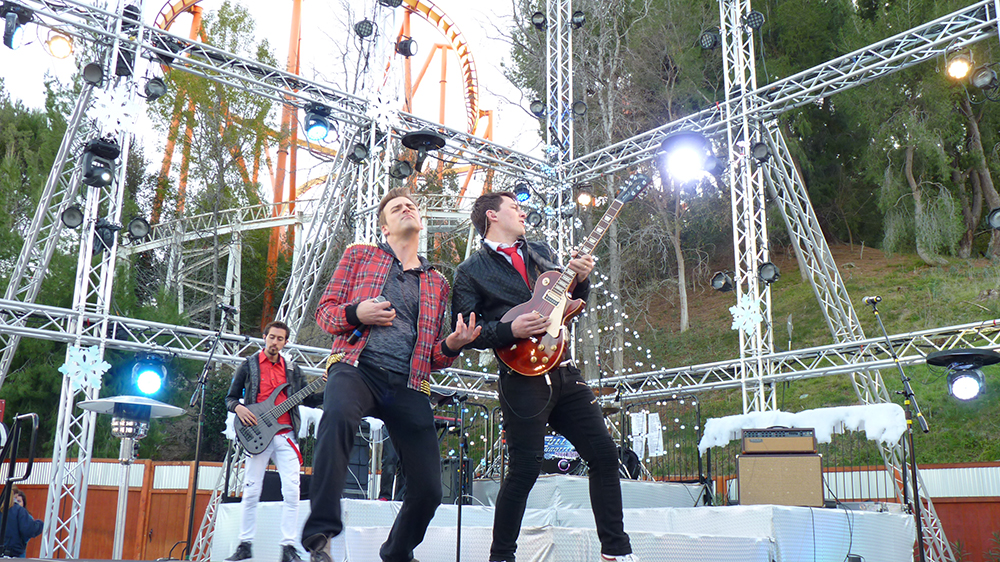 Full Throttle Band:
Nolan Wren – Leader/Drums
Bryan Archer – Guitar
Jeff Ramos – Bass
Nick Gilroy – Keyboards
Jayme Palmer – Vocalist
In December, we dropped by Six Flags Magic Mountain in Valencia to check out the Local 47 rock band performing at the theme park's "Snowy Nights" evening concerts.
Dubbed the Mistle-Tones during the holiday season, the group entertained park goers with fun renditions of holiday tunes from a large stage set up outside the Full Throttle ride. Additional guest vocalist on the night of our visit was Actors' Equity member Joe Donohoe. During the evening DJ sets, Local 47 member Ricky Lorek performed live drums.
The Full Throttle band also performed during the summers and Fright Fest Halloween-season "Voodoo Nights" in 2013 and 2014.