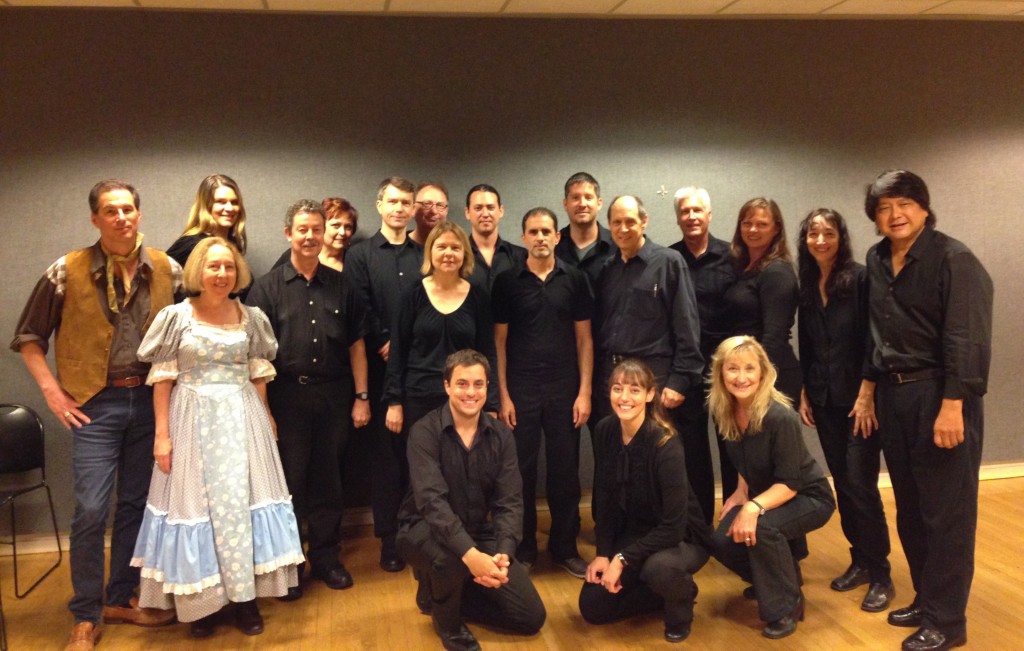 Orchestra & cast members of Cabrillo Music Theatre's production of OKLAHOMA!
Cabrillo Music Theatre's production of OKLAHOMA! enjoyed a spectacular run July 17-26, 2015 at the Kavli Theatre in Thousand Oaks.
The first collaboration between Richard Rodgers and Oscar Hammerstein opened on Broadway in 1943, and in spite of some early skepticism was greeted by rave reviews and sold-out houses. In the end it ran for over five years and held the record for longest-running musical for almost a decade.
Now known as "the musical that reinvented American musical theater," OKLAHOMA! includes favorite songs such as  "Oh, What a Beautiful Mornin'," "Many a New Day," "People Will Say We're in Love," "Surrey with the Fringe On Top," and "I Cain't Say No," among many others.
The show's run at the Kavli Theatre featured a wonderful 18-piece AFM Local 47 orchestra contracted by Darryl Tanikawa, who also performed clarinet in the ensemble. Brian Kennedy served as Music Director & Conductor, with Lloyd Cooper serving as Assistant Music Director and Darryl Archibald serving as Music Supervisor.
THE CABRILLO MUSIC THEATRE ORCHESTRA

Rhondda Dayton – Flute, Piccolo
Ian Dahlberg – Oboe, English Horn
Darryl Tanikawa – Clarinet 1
Gary Rautenberg – Clarinet 2, Bass Clarinet
Bill Barrett – Trumpet 1
Jonah Levy – Trumpet 2
June Satton – Trombone 1
Robert Coomber – Trombone 2
Melissa Hendrickson – Horn 1
Jennifer Bliman – Horn 2
Sharon Cooper – Violin 1, Concertmaster
Sally Berman – Violin 2
Brian LaFontaine – Guitar, Banjo
Lloyd Cooper – String Synthesizer
Elaine Litster – Harp
Shane Harry – Double String Bass
Alan Peck – Set Drums, Percussion
Orchestra produced by TANIKAWA ARTISTS MANAGEMENT