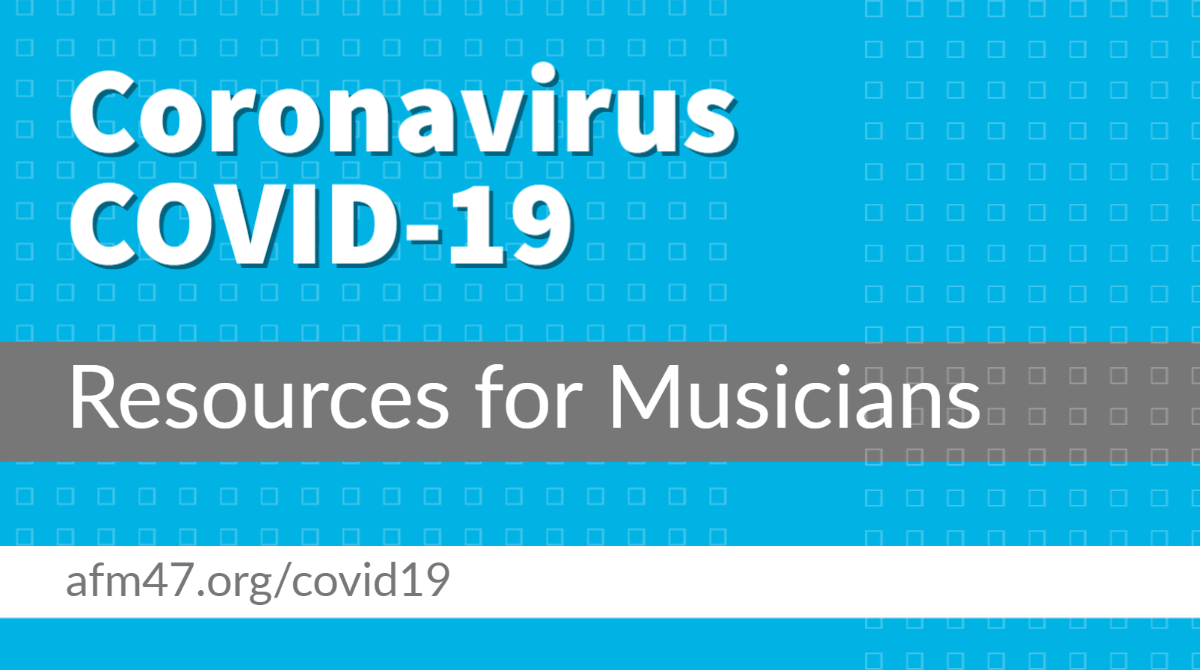 For the latest COVID-19 news and updates, please visit the Los Angeles County Department of Public Health website.
---
Loss of Work Due to COVID-19
If you have experienced canceled work services or reduced hours, need to care for a family member who has contracted COVID-19, can no longer work full time because your child's school has closed, or if you become sick or quarantined due to coronavirus, you may be eligible to file a claim with the California Employment Development Department (EDD). Review our Musicians FAQ on Filing for Unemployment for more information on which benefits you may be eligible to receive and for answers to frequently asked questions.
---
Emergency Relief for AFM Members
AFM Local 47 Relief Fund - available to AFM Local 47 members in good standing for at least one year who are suffering from illness or injury that prevents them from working, or who lack the funds to pay for necessities such as food or rent
AFM Musicians' Relief Fund - up to $300 for AFM members who are primarily freelancers; see link for full requirements (applications temporarily closed; check back for updates)
AFM James Petrillo Fund - available to AFM members diagnosed with COVID-19 by a medical doctor or who cannot work due to another illness or disability
---
Additional Grants & Relief for Musicians
The Actors Fund - for everyone (not just actors!) in entertainment; available to union and non-union entertainment workers
Artist Relief - offering $5,000 emergency grants to artists
Artist Relief Project - open to any artist in any discipline whose income has been impacted by COVID19-related cancellations and closures
Black Business Grants & Minority Resources - free SEO analysis, advice and planning recommendations for Black-owned and minority-owned businesses with websites
California Jazz Foundation - emergency financial assistance and/or emergency medical referrals for jazz musicians
California Arts Council Grant Programs - several grants available for individuals and arts service organizations
Foundation for Contemporary Arts Emergency Grants COVID-19 Fund - for experimental artists who have experienced postponed or canceled engagements due to COVID-19 (ends on September 15, 2021)
Freelancers Union Relief Fund - up to $1,000 for freelancers, sole proprietors, limited liability companies, or other single-person entity (applications temporarily closed; check back for updates)
Freelance Artist Resources - a list of additional resources for freelance artists

Jazz Foundation of America Musicians' Emergency Fund
LA Regional COVID Fund - grants for micro-entrepreneurs and small businesseses located in Los Angeles County
Marketing Grant for Artists - free SEO analysis and recommendations for artists with websites
Motion Picture Television Fund - call the intake line to learn what assistance is available to you: 323.634.3888
Music Covid Relief - a resource for musicians to access information and applications for benefits made available by the CARES Act
MusiCares / Recording Academy COVID-19 Relief Fund
Musicians Foundation CV19 Emergency Relief Aid Grant - $200 grants for professional performers, educators and composers whose principal income has been derived from your work as a musician for the past 5 years
SONA Songwriter Assistance Fund - emergency grants of $1,000 to qualified songwriters who have suffered work cancellation and other financial losses as result of the coronavirus pandemic
Sweet Relief COVID-19 Fund - for musicians with at least 50% of all income is derived from working within the music community
Union Plus Hardship Help - assistance for union members
---
Community Relief Resources
Labor Community Services COVID Resources - includes links to affordable health care, housing help and more
Labor Community Services Food Distributions - open to all union members
Los Angeles Regional Food Bank - find a local food pantry
Mortgage Relief - Fannie Mae, Fannie Mae Loan Lookup | Freddie Mac, Freddie Mac Loan Lookup
One Degree COVID-19 Resource Guide - community resources for residents of Los Angeles County and San Francisco Bay Area

---

COVID-19 Health Resources & Information
COVID-19 Vaccine Signup - LA County Department of Health - View your eligibility, get more information, and book vaccination appointments; the vaccine is free for all eligbile persons
Vaccine FAQ - the LA Fed has gathered information from the medical experts about the effectiveness and safety of the Pfizer, Moderna, and Johnson & Johnson vaccines
10 Creative Ways Musicians Can Earn Money from Home During COVID-19
U.S. Equal Opportunity Emloyment Commission - What You Should Know About COVID-19 and the ADA, the Rehabilitation Act, and Other EEO Laws
Department of Industrial Relations: COVID-19 FAQs on laws enforced by CA Labor Commissioner's Office
Department of Managed Healthcare: Coverage Options
Free COVID-19 Testing - offered by the County of Los Angeles
Health & Welfare Fund: Information for Kaiser, Blue Shield, and Delta Dental participants
How Musicians Can Stay Healthy During Covid-19
How to Properly Wash Your Hands

ICSOM Guidance on the application of force majeure
Labor & Workforce Development Agency: Guidance for Employers and Workers
Music Unites Us - ASCAP COVID-19 resources
Navigating Workers' Compensation During COVID-19
Office of Business & Economic Development