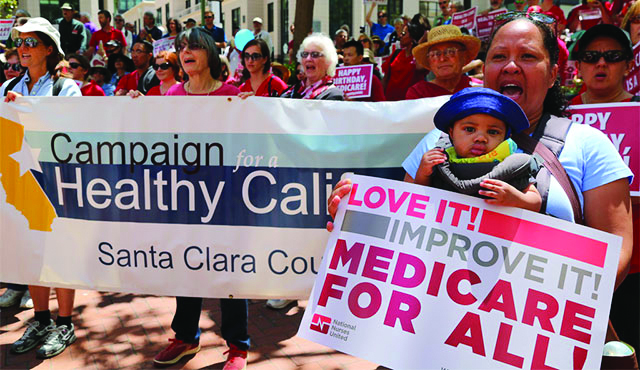 As the repeal of the Affordable Care Act (ACA) transpires, California is ready to show another path is possible. The Californians for a Healthy California Act, SB 562 (Lara & Atkins), allows us to go on offense by guaranteeing healthcare to all in California.
Healthy California is a campaign comprised of organizations representing over 4 million Californians committed to guaranteeing healthcare for the residents of our state. It's like Medicare for All. Individuals will have free choice of licensed health professionals and services. Covered benefits will include services to keep people healthy—mentally and physically—as well as those services that diagnose and treat diseases. In addition to emergency services, surgeries, and hospital stays, services such as home healthcare, day care and hospice are covered. Vision and dental care are also included.
The bill has been crafted to provide a single high standard of safe, therapeutic care for all California residents in a manner that is financially sustainable:
• A payroll and income premium, which is higher for upper income earners, would replace insurance company premiums, co-pays and deductibles—likely resulting in significant out-of-pocket net savings.
• Choose any provider. No more surprise bills. No out-of-pocket costs for covered services.
• Eliminates co-pays for Medicare Part B.
• Lower prescription drug costs.
• Regional planning to reduce overlap and duplication of expensive equipment and facilities.
• Provider rates will be negotiated to ensure access, cost control and high-value services.
• The advances from the Affordable Care Act will be folded into the new system.
• Huge cost-savings from reduced bureaucracy. No more insurance company runaround. No more bill collectors.
• Diverse participants including ordinary citizens and representatives of labor and business, as well as various health care professionals and health policy experts, will advise and help design the Healthy California program.
With the federal government again doing healthcare reform, moving more responsibility for healthcare to the states, it's imperative that California establish a better, truly universal system, which finally gets costs under control. The Golden State can set the standard for the country by implementing a just and equitable healthcare system — Healthy California!