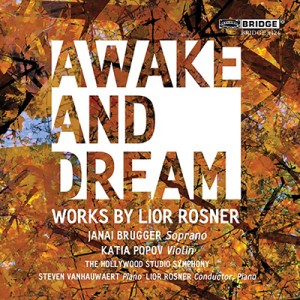 Since moving to Los Angeles from his native Israel, Lior Rosner has made a name for himself as a composer of rare versatility. Perhaps best known as the composer of the theme music for the "Ellen DeGeneres Show," he has worked in film, TV and video games, and scored trailers and commercials for huge projects and brands.
A graduate of the Jerusalem Academy of Music and Dance, he studied composition and theory with composers Haim Alexander and Mark Kopytman. After graduating, he moved to Los Angeles to pursue a career as a film composer. During his many years of success in this medium, he has continued to compose classical music, including chamber works that have been played by various ensembles, among them the Armadillo String Quartet and the Pacific Composers Forum.
But concert music has always been dear to Rosner's heart, and his artistry is on full display with his new collection of vocal and instrumental works, "Awake and Dream," released on Bridge Records.
"'Awake and Dream' brings together a collection of works I've written for violin and poems I've set to music for soprano voice," said Rosner.
The album was recorded by the Hollywood Studio Symphony and conducted by Rosner on the Warner Bros. Eastman Scoring Stage in Burbank, at the Bridge Recording in Glendale, and at Firehouse Recording in Pasadena. It features five pieces: "Awake and Dream" for violin and orchestra, "Three Poems by Sappho" for soprano and orchestra, "In Time of Silver Rain: Seven Poems by Langston Hughes" for soprano and piano, "Innerscape" for violin and piano, and "G-Pull" for solo violin.
The composer turned to soprano Janai Brugger to perform on the recording. The 2012 winner of Plácido Domingo's prestigious Operalia vocal competition and the Metropolitan Opera National Council Auditions, the American soprano appeared as Liu Turandot at the Hawaii Opera Theatre during the 2013–14 season. In 2013 she returned to Los Angeles Opera with her debut as Pamina in "The Magic Flute," and in the spring she performed with the Metropolitan Opera singing the role of Helena in "The Enchanted Island." In May, she made her debut as Michaela in "Carmen" with Opera Colorado.
"The pieces on the album came to life thanks to the great artistry of soprano Janai Brugger and violinist Katia Popov," said Rosner. The award-winning Popov has held the positions of concertmaster of the Sofia Chamber Orchestra and the Academy of Music Chamber Orchestra. Continuing her studies in the Paris Conservatory, she became concertmaster of the European Symphony Orchestra, with whom she recorded and traveled extensively throughout Europe. After moving to the United States, Katia became a member of the Los Angeles Chamber Orchestra, principal II violinist of the Long Beach Symphony, and concertmaster of the Hollywood Bowl Orchestra, Santa Monica Symphony, Glendale Pops, and Glendale Philharmonic.
The title work on "Awake and Dream" is a meditative solo played by Popov and the Hollywood Studio Symphony, conducted by Rosner himself.
Of special note on the album is the seven-movement piece "In Time of Silver Rain: Seven Poems by Langston Hughes."
"One of America's greatest poets, Langston Hughes was a social activist and early innovator in jazz poetry," Rosner said. "I composed the piece to liberate Hughes' words from the boundaries of historical context. I decided to set his work in a modern musical approach so that we might consider the contemporary relevance of Hughes' frank and often searing meditations on the universal themes of oppression, loss, frustration and love."
"Awake and Dream," out now on Bridge Records, is eligible for 2015 Grammy nominations. The album is available for purchase from Amazon, iTunes or ArkivMusic. Visit Lior Rosner on the web at rosnermusic.com.
The Hollywood Studio Symphony for Lior Rosner's 'Awake and Dream'
Recorded at Warner Bros., the Bridge Recording, and Firehouse Recording between 2011–2013
Violin
Bruce Dukov, concertmaster
Lorand Lukuszta
Jessicfa Guideri
Darius Campo
Irina Voloshina
Lisa Sutton
Amy Hershberger
Lisa Liu
Ana Laundauer
Rafael Rishik
Viola
Victoria Miscolczy, principal
Darrin McCann
Victor de Almeida
Meredith Crawford
Cello
Andrew Shulman, principal
Xiaodan Zheng
Trevor Handy
Erika Duke-Kirkpatrick
Bass
Michael Valerio, principal
Steve Dress
Flute
Geraldine Rotella
Clarinet
Stuart Clark, principal
Ralph Williams
Oboe
Lara Wickes
Percussion
Wade Culbreath, principal
John Wakefield
Keyboard/Piano
Gloria Cheng
Harp
Jo Ann Turovsky
For "Three Poems by Sappho":
Violin
Katia Popov, concertmaster
Lorand Lokuszta
Darius Campo
Irina Voloshina
Grace Oh
Lisa Liu
Radu Pieptea
Kevin Connolly
Neil Samples
Marina Manukian
Alwyn Wright
Viola
Shawn Mann, principal
Andrew Duckles
Alma Fernandez
Darrin McCann
Cello
Armen Ksajikian, principal
Giovanna Clayton
Xiaodan Zheng
Bass
Michael Valerio, principal
Drew Dembowski
Orchestra Contractor
Peter Rotter
Conductor
Lior Rosner