Studios' refusal to provide New Media residuals threatens livelihood of musicians
LOS ANGELES, CA (March 13, 2019) — Today members of the American Federation of Musicians, AFL-CIO, held a press conference calling on the Alliance of Motion Picture and Television Producers to engage in fair contract negotiations and protect the future careers of professional musicians as the industry shifts to streaming and online distribution (aka "new media").
The press conference took place on the first morning of bargaining with film and television studios and highlighted the fight by musicians to secure a place in today's new technological landscape. As new media consumption has grown, studios have agreed to pay streaming residuals for actors, writers, directors and others when films are made for streaming, but musicians have been uniquely excluded.
"Many of us have been working in the film and television industry for years and know the importance of evolving alongside continual changes in technology," said Dylan Hart, AFM Local 47 member and studio musician. "Musicians want the industry to advance and grow, and our careers and our contracts have to adapt along with it."
Musicians currently receive residual payments for secondary-market uses of theatrical and TV films, but not for films made for the internet. The ability of musicians to earn a living wage in the film industry is in jeopardy with the transition toward digital consumption.
"As streaming consumption grows, the absence of streaming residuals will prevent musicians from being able to afford a home and feed their families, and threatens to erode the major contributions our members make to our local communities," said Ray Hair, AFM International President. "AFM members must take on the changes in technology by ensuring that we maintain good jobs and a rightful place in the future of the industry. We are seeking a productive dialogue with AMPTP as we work to reach a fair resolution of these negotiations."
Speakers and attendees at the press conference included American Federation of Musicians International President Ray Hair, recording musicians and members of the American Federation of Musicians, representatives from the Los Angeles County Federation of Labor, and others who are voicing support for musicians.
"Working people in the entertainment industry must face the changes in our business together," SAG-AFTRA President Gabrielle Carteris shared in a letter of support of AFM musicians. "For generations, we have fought for quality jobs and won. Now, as the industry moves toward new media, we believe it is time to stand together again. Our members recognize the tremendous value that musicians bring to our films and television shows, and we support their demand for a fair contract for streaming."
[Sign up for updates at
afm47.org/newmedia
]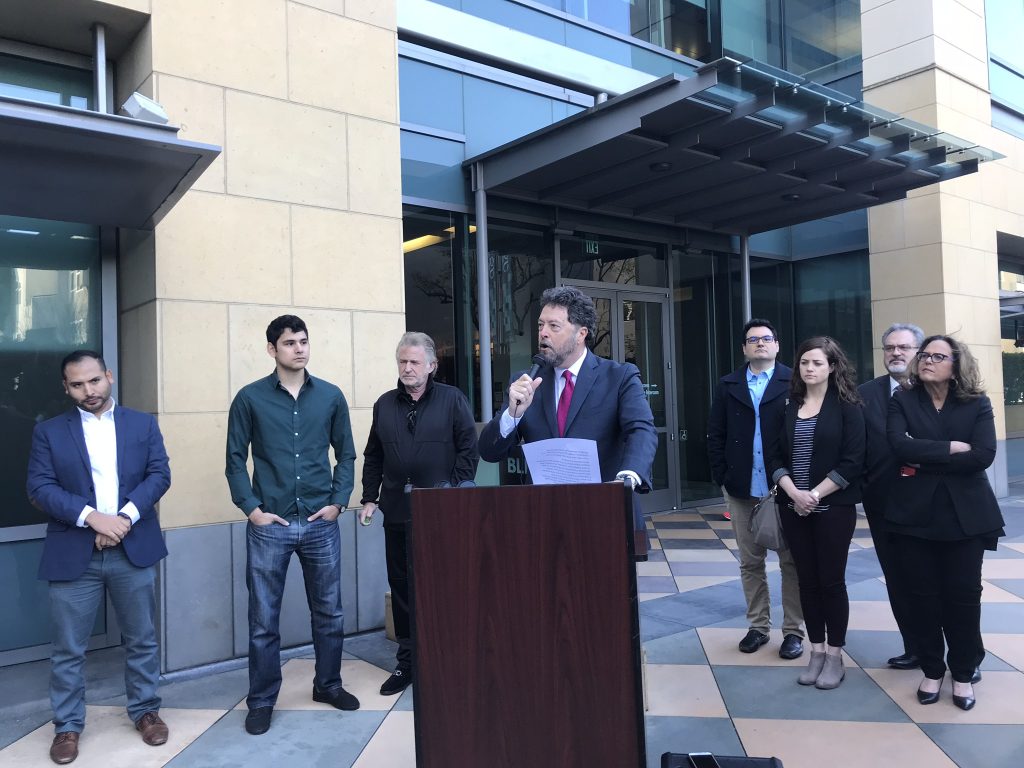 [Photos by Linda A. Rapka/AFM Local 47]
###
About AFM Local 47 – Local 47 is a labor union formed by and for musicians over a century ago that promotes and protects the concerns of over 7,000 musicians throughout the greater Los Angeles area in all facets of the music business. Local 47 is affiliated with the American Federation of Musicians of the United States and Canada, AFL-CIO, the largest organization in the world representing the interests of 85,000 professional musicians. As proud member of the Los Angeles County Federation of Labor, California Labor Federation, and AFL-CIO, we work alongside our fellow labor unions at home and abroad to champion social and economic justice for all workers.
Press Contact: Linda A. Rapka
323.993.3162 | linda.rapka@afm47.org