ANAHEIM, CA (August 26, 2019) — Musicians who record the scores for major motion pictures and television shows spent this weekend at the D23 Expo engaging with Disney fans, performing live music and sharing information about their grassroots #BandTogether campaign to win a fair contract for new media.
Members of the American Federation of Musicians are coming together across the country to demand a fair contract from major studios including Disney, ABC, Warner Bros., CBS, MGM, Sony, Paramount, and NBCUniversal. As these major film and television studios prepare to launch their own streaming platforms, they are refusing to grant industry-standard residuals and wages to the musicians who work for them.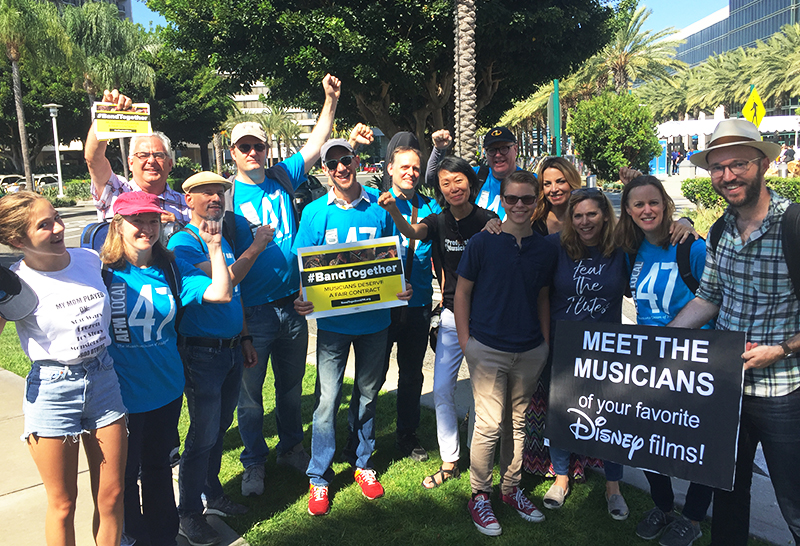 "What we do now determines our future, and the future for every musician who comes after us," said Danita Ng-Poss, orchestrator and music preparation worker. "We owe it to our friends and colleagues to ensure we are all paid properly. We also have a responsibility to pass along a career with proper pay to those who are starting out in the business, just like musicians who came before did for us."
The studios' refusal to provide new media residuals threatens the ability of musicians to earn a living wage in the industry. As musicians approach the next round of bargaining with motion picture and television producers later this year, they are stepping up efforts to protect their livelihoods and demand a fair new contract.
"The music we make lives on for generations. A residual payment is only fair," said P. Blake Cooper, recording musician and director on the board of Los Angeles AFM Local 47. "It's the only way to actually make a real living doing this work."
The musicians' #BandTogether campaign is quickly gaining support from community and labor allies. At a press conference musicians' organized in June for the campaign, Angelina Burnett, board member of WGA-West, said: "We writers know that music is a crucial element in bringing our stories to life. Musicians make invaluable contributions to our film and television projects, whether they're made for traditional outlets or streaming services. The Writers Guild of America West stands together with musicians to demand fair pay and respect for their work."
"All 160,000 members of SAG-AFTRA stand united with you for good pay and fair working conditions," said Jane Austin, SAG-AFTRA national secretary-treasurer and Los Angeles chapter president, who also spoke at the press conference. "It's not new media. It's now media. We all deserve fair compensation regardless of what platform on which our work is being displayed."