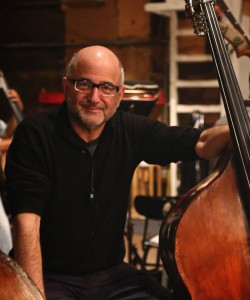 Saturday Mornings 10am – 1pm
@ Local 47 Serena Kay & Earl Williams Auditorium
Courses offered paired or individually FREE to Local 47 members in good standing
Taught by Dr. Norman Ludwin, an active session bass player for film and TV, composer, and orchestrator who has recently worked on "Jurassic World," "Inside Out," "Tomorrowland," and "Zootopia"

Part of Local 47's continuing series of free classes for members, in his paired Orchestration I and II course Dr. Norman Ludwin offers members a unique hands-on learning experience, taught by an industry professional. For both classes students will have access to online resources with an interactive website that includes essential class materials, scores and listening samples. Even if you have limited or no experience in orchestration, all members are strongly encouraged to attend these free classes to learn this important craft that can boost your career. Space is limited; RSVP required: rsvp@promusic47.org
Orchestration I
June 18 – Aug. 6, 2016
Orchestration I covers the basics: ranges, strength and weaknesses of the instruments, transpositions and how to orchestrate clearly and effectively. Participants are introduced to orchestral instruments and their usage, with a focus on film music. Two areas are covered: instrumentation dealing with the construction, sound production, range, notation, and playing techniques of each instrument and orchestration which is the actual process of scoring music for orchestra. Groups of instruments examined include brass, strings, woodwinds, keyboards, harp, and percussion. Class sessions involve lectures, score study, instrumental demonstrations, and performance and discussion of student assignments.
Orchestration II
Aug. 13 – Oct. 1, 2016
Students will continue the study of orchestration and elements of texture and form by looking at contemporary concert music, analysis of different composers' methods of orchestration, and extensive study of film music. Using classic scores and scores he himself has recently worked on, Ludwin will instruct on cues and selections from Michael Giacchino, John Williams, Jerry Goldsmith, and Thomas Newman, among others. The ending course project is a recording of the students' original compositions by the Symphony 47 orchestra.
ABOUT DR. NORMAN LUDWIN
Ludwin has authored seven books in orchestration used in courses he teaches at the UCLA Extension Film Scoring Program and Cornell School of Contemporary Music. His books are also used in such schools as Berklee and the Eastman School of Music, as well as internationally. Over the past two years he has presented seminars all over the world including Boston, Toronto, New York, Seattle, Thailand and Vietnam.
"Norman has played in my orchestra since my earliest scores, and frequently orchestrates for me as well. In his book, he covers the basics of orchestration from the invaluable point of view of one of Los Angeles' top session players. Orchestration: A New Approach, with its clear analysis and numerous examples from the masters, is a fresh offering of orchestration technique that emphasizes craft and is enjoyable to read." – Michael Giacchino (Oscar, Emmy and Grammy winning composer)
"My first reaction to Norman Ludwin's orchestration book? Where was this wonderful aid when I started orchestrating many years ago? It would have been my constant companion during those early days when I was learning so many things the hard way! My good friend, Norman, has combined his talents as musician, composer, and orchestrator with his gifted teaching skills to author this must-have book for every orchestrator. It is extremely comprehensive, very logical, and best of all, easy to use. I heartily recommend this book as an essential building block for a career in orchestrating. Kudos Norman!" – Tim Simonec (Orchestrator of over 80 films for the past 35 years)
"Norman Ludwin's Orchestration: A New Approach gives us a 'learn from the masters' guide that focuses attention on score analysis. The wealth of information it contains makes it a wonderful course book or supplementary text for college orchestration classes, depending on how they are taught. Many studying orchestration independently will find it an invaluable tutor. The package makes such excellent use of technology that many older texts seem quaint by comparison. Ludwin is to be applauded!" – Dr. Anthony Scelba (Anthony Scelba has taught Orchestration since 1979)