Know Your Rights
Local 47 Executive Board Statement on Sexual Harassment in the Entertainment Industry
As a labor union, American Federation of Musicians Local 47 was founded on the core principles of fairness, dignity, respect, and equality for all people. No one should ever be subjected to sexual or physical harassment or abuse of any kind in the workplace, and we commend the many women and men who have courageously spoken out and shared their stories of sexual abuse and harassment in the entertainment industry.

Among the stated purposes of our union are to promote, encourage, and enforce good faith and fair dealing with and among its members, to advance the cause of civil rights and civil liberties, and to combat discrimination in employment practices and opportunities. Consistent with these commitments, and in compliance with both federal and state laws, the Local 47 Executive Board has adopted a ZERO TOLERANCE policy against discrimination and harassment of any kind — sexual or otherwise — of our members and others employed under our collective bargaining agreements.

If you see something wrong or unsafe, or are being subjected to unlawful discrimination or harassment, speak out. Document the intimidating or offensive behavior, and discuss the incident with a colleague or friend. Contact your union representatives by filling out the Report of Harassment/Retaliation Form or calling our Hotline at 323.406.6820. Local 47 stands steadfastly committed to ensuring that our members have the opportunity to work in safe environments free of discrimination, harassment, and any other form of inappropriate and unlawful behavior, and to hold anyone responsible for such abuses accountable.

Many of us standing together are more powerful than any of us standing alone.

In Unity,

AFM Local 47 Executive Board
Submit a Complaint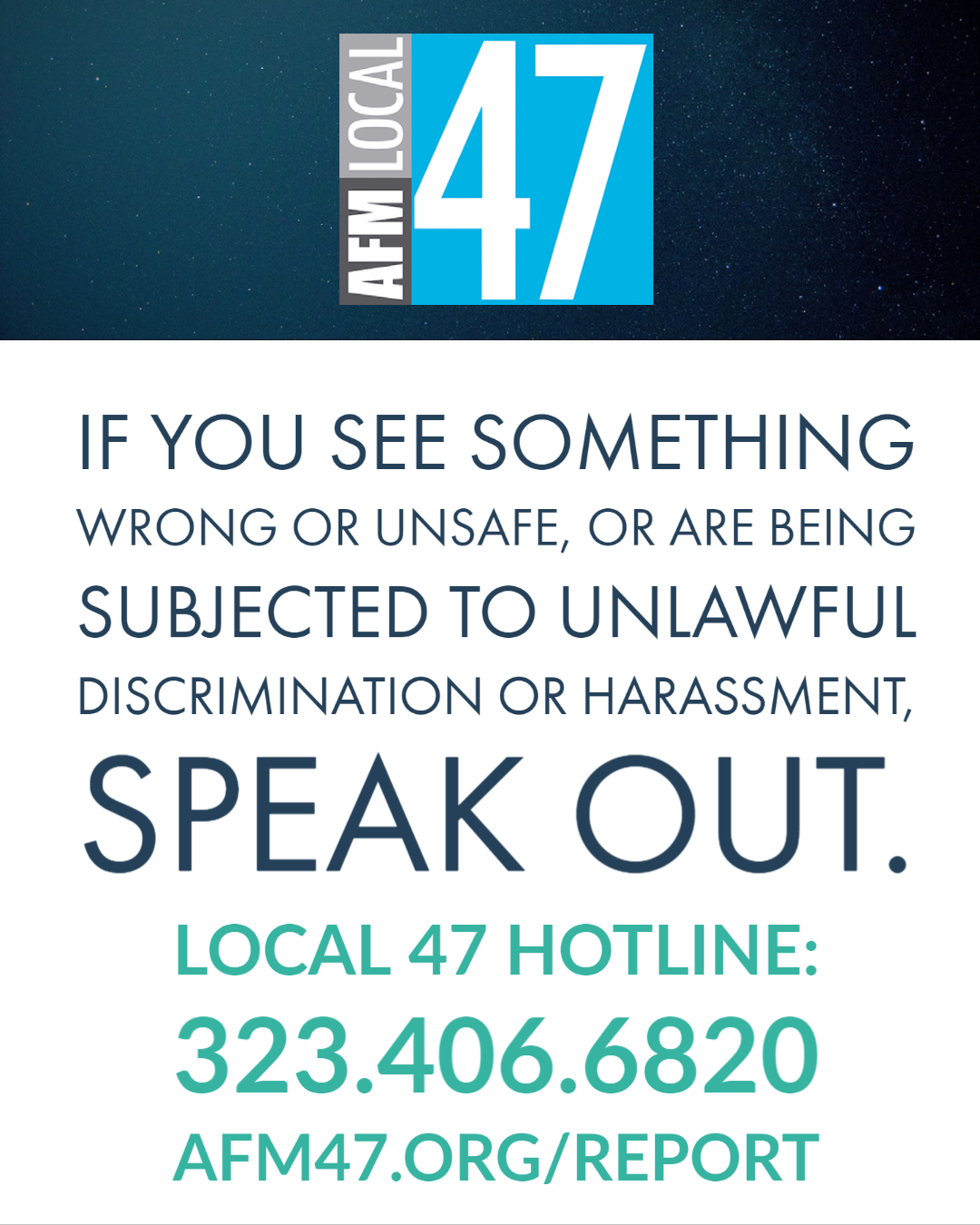 If you are subject to or witness what you believe is unacceptable behavior while working, please report the conduct to your employer. If you are not comfortable reporting to your employer and/or if you are subject to what you believe is unacceptable conduct under the AFM Local 47 Code of Conduct (available in the members-only section here) or witness such behavior, please immediately report the conduct to Local 47.
To submit a report, call our Hotline at 818.588.6213 or fill out the Report of Harassment/Retaliation Form. This form may be filed with AFM Local 47 Human Resources department at hr@afm47.org or with the Office of the President at president@afm47.org.
---
Seminar Video
AFM Local 47, co-hosted with The Actors Fund and Bush Gottlieb Law, presented a seminar on Understanding and Responding to Sexual Harassment in April 2018.

---
Additional Resources
The Actors Fund Entertainment Assistance Program provides free help with filing claims, counseling programs, and access to available resources. Download the Sexual Harassment Resources Sheet