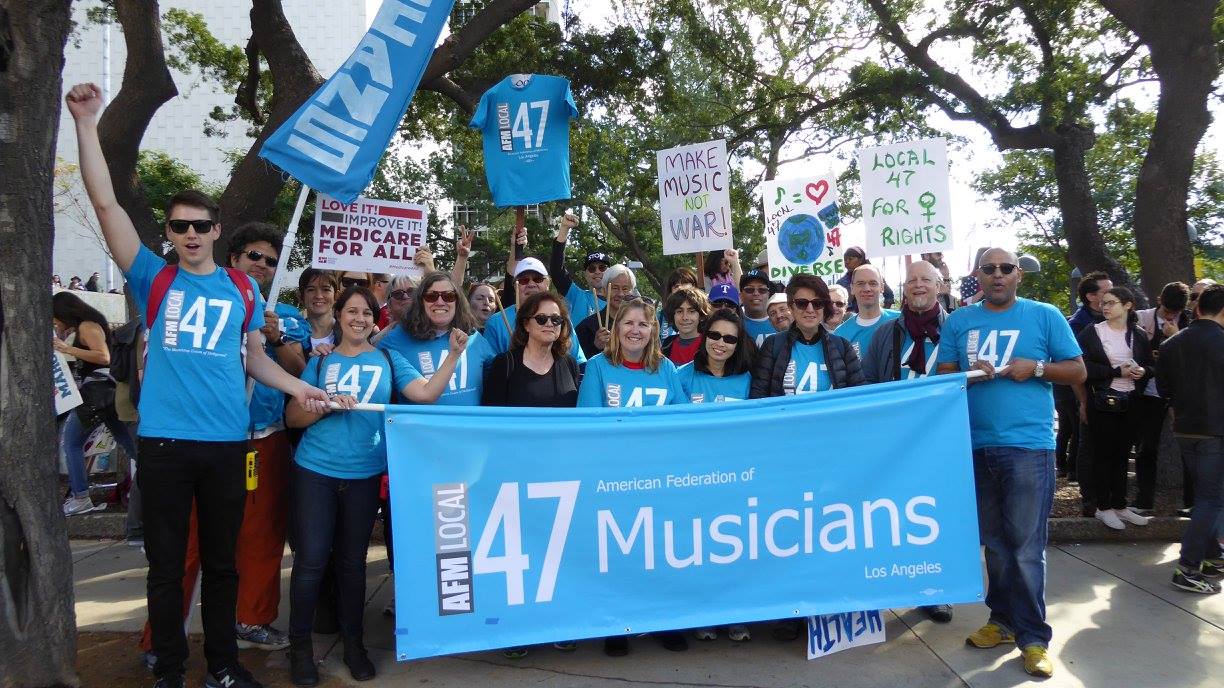 View our photo gallery and videos
Musicians marched alongside hundreds of thousands of fellow union members, community activists, and supporters in the Women's March Los Angeles Saturday, January 21, 2017.
The Los Angeles demonstration — one of dozens of sister events throughout the nation and around the world held in tandem with the Women's March on Washington, D.C. — centered around support not only for women's rights, but for civil liberties, worker rights, healthcare, human dignity, and free speech. Event organizers stressed that the marches were not just for women or women's issues but about issues with direct impacts on all citizens, and to show solidarity with those most at-risk under the current administration.
"I couldn't not be here today," said Dale Breidenthal, second violinist with the Los Angeles Philharmonic. "We need to stand up for common decency for all humans."
Led by a three-piece drumline, dozens of members of the American Federation of Musicians Local 47 marched alongside thousands of peaceful demonstrators from Pershing Square to City Hall. Musicians were joined by fellow union members and allies from the Writer's Guild Association West, California Faculty Association from Long Beach State, Art Directors Guild I.A.T.S.E. 800, Campaign for Healthy California, Jewish Labor Committee Western Region and others.
"Musicians are marching because we want a strong labor movement that can fight income inequality, and healthcare for all through the expansion of Medicare," said Local 47 President John Acosta, who marched alongside members at the rally. "We believe that everyone, regardless of gender, sexual orientation, income level, and ethnic and religious background, deserves to be treated with dignity, equal opportunity, and respect."
"I was very proud that the union was involved with this march," said timpanist Damion Frigillana. "I thought the showing was quite impressive."
Between 500,000 and 750,000 attended the Los Angeles march, and event organizers say that over 4.5 million participated in 915 cities worldwide.
Attendees of all genders, colors, and ages from all walks of life carried signs touching on a wide swath of issues, ranging from civil rights to women's issues to healthcare and immigration.
"Freelance musicians and artists need healthcare just like everyone else," said violinist and activist Marc Sazer. "We need to protect and improve our healthcare, not take it away."
"I participated in the Los Angeles Women's March to support our core values — tolerance, diversity, inclusion, equal rights, human rights, labor rights; to preserve our quality of life — climate change, universal healthcare, environmental preservation; and to support our role as a cooperative nation on the the planet," said Phoebe Ray, bassoonist. "Marching together peacefully is the antidote to this Administration. It showed our determination to be a caring nation, not a hateful nation."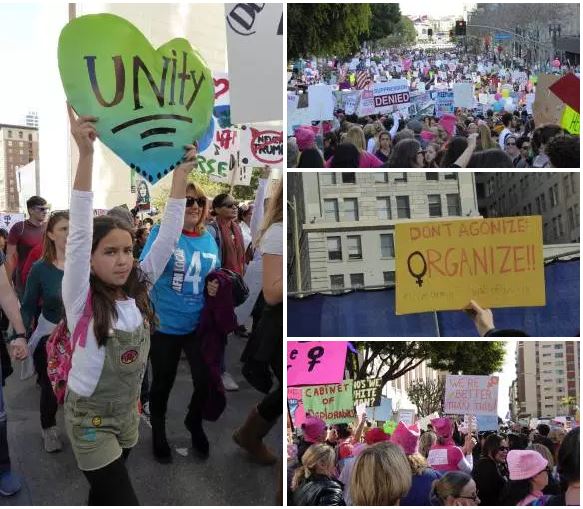 View our photo gallery and videos

We can be proud that we took a stand for the fundamental principles of our organization: union rights, inclusion, and the dignity and respect of all people. This was the largest protest in U.S. history. But the power of this demonstration was never in its potential to change a few politicians' minds; rather, it must be measured by how much it has changed us — the people who marched.
Will we sustain our opposition to policies that will harm musicians?
Will we sustain our activism around broader issues like human rights and healthcare for all?
Here's how you can make sure that the Women's March becomes the start of an historic, important era of activism:
Let us know why you marched, or why you supported the march. Which issues are most important to you?
Work with Local 47 reps and organizers and participate in ongoing actions around healthcare, human rights, dignity, and diversity.
Sign up here to work with Local 47 reps and organizers and participate in ongoing actions around healthcare, human rights, dignity, and diversity.